Discover more from Dub Nation HQ
High Quality coverage of the Golden State Warriors with the best commenting community in the world.
Over 3,000 subscribers
NBA playoff mega preview: Day 1
All the teams, all the matchups, all the predictions. Who you got?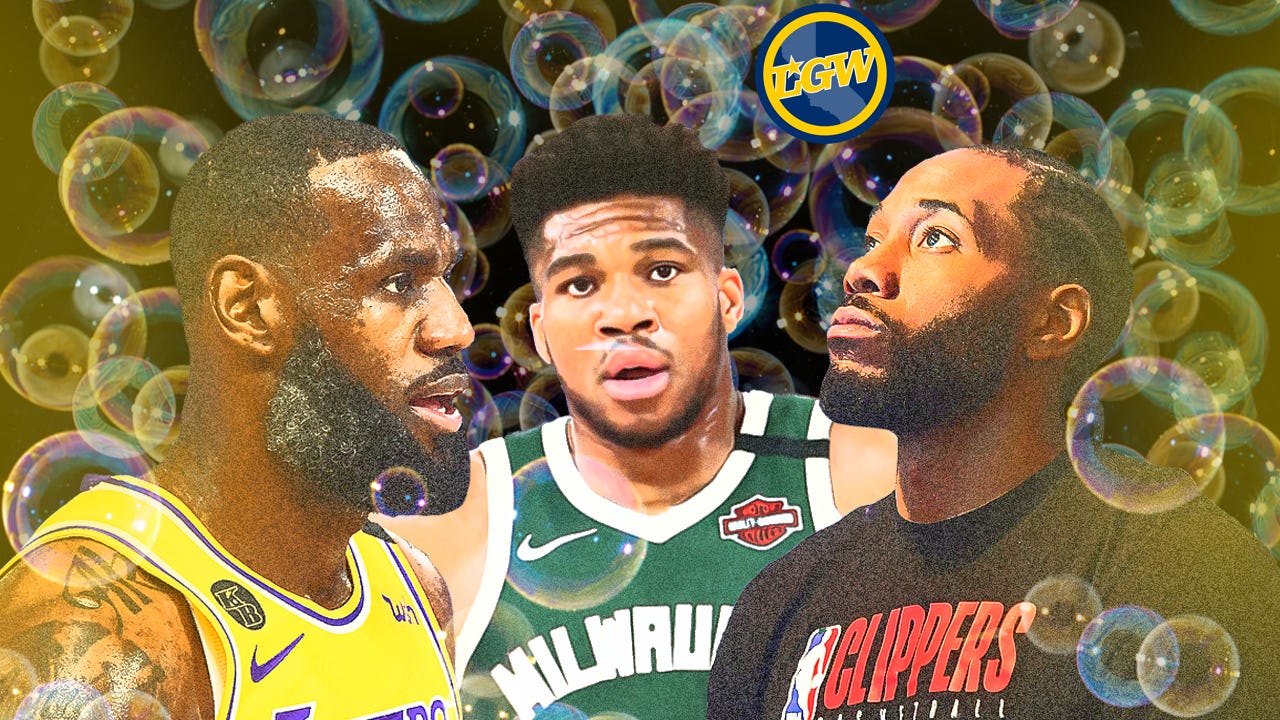 Like the rare thunderstorms rolling through Oakland yesterday, this year's NBA playoffs are going to be an unusual event. With many of the league's best players sitting out for one reason or another, the path to a Championship is as wide open right now as it has ever been. Games start as early as 10:30 this morning, and because of the joys of working from home, will be on in the background for most of my day.
Will anything crazy happen, or can we just expect the powerhouse teams from each conference to slowly roll towards their inevitable showdowns?
Seeding and schedule
The first round of the NBA playoffs is a smorgasbord of basketball watching. Pretty much all day, every day this week there will be a game on. You can see the entire broadcast schedule here, or just flip through TNT, ESPN, and NBATV and take what you get.
Here's the basic bracket for the 2019-2020 NBA playoffs: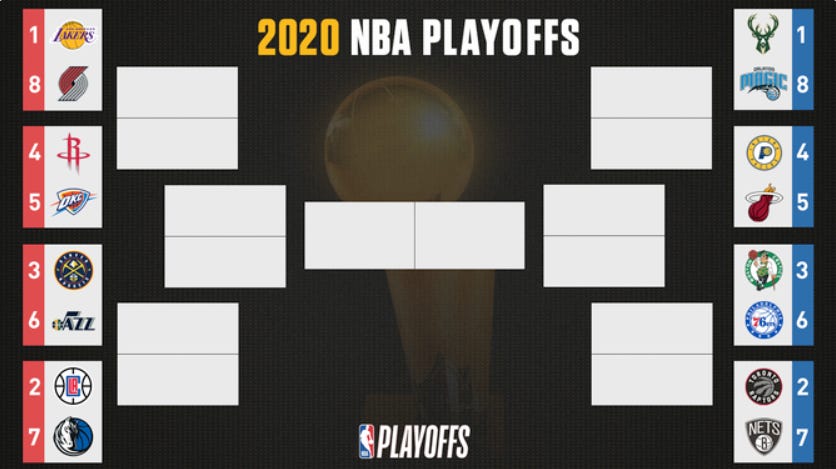 Series detailed previews
I thought I'd change it up here, and go by launch schedule, rather than Conference or seeding. Since I seem to be physically unable to write short previews, we'll be back tomorrow with part two of this preview series covering the remaining teams.
So, in order of their appearances, here are all of the matchups and what to look for today.
Game 1:
(3) Denver Nuggets vs. (6) Utah Jazz; 10:30 am ESPN
While the most obvious storyline will be the battle between a pair of NBA dinosaurs - with Nikola Jokic and Rudy Gobert doing their damndest to bring back the 80's era of big men - the real war will be waged on the wings.
Utah, already facing an uphill battle against a Denver team that has been much better this season, will be forced to enter the series without their main 2019-2020 offseason addition - though it is for the happiest of reasons:
Without Mike Conley's 18 points and 5 assists in the bubble, the Jazz wouldn't be in this matchup, but regardless, they'll need to figure out something on the fly, as even after returning, Conley will have to go through some form of the NBA's quarantine procedure prior to returning to action.
For context, Orlando players are required to spend four days in quarantine "as long as the person tested negative for COVID-19 each day they were outside the campus." In other words, Conley could easily miss half of this series - at best.
It will be up to the tandem of Donovan Mitchell and Rudy Gobert to carry the Jazz offense, but Conley's absence may be felt most severely on defense. The next guard on the depth chart is Jordan Clarkson. So… yeah.
On Denver's side, they've got the opposite issue - an emergent player exploding all over the Orlando Bubble. Michale Porter Jr. is a 6'10" wing that emerged as a starter during the eight seeding games, where he averaged 22 points and 8 rebounds, while shooting a blistering 44% from deep. Recently named to the All-Bubble 2nd team (yes, that's a real thing). he's going to be a problem for Joe Inlges.
This series is a classic "offense-vs-defense" battle and Jokic has been extremely tough for Utah to slow down. In three games against the Jazz this season the sneakily astute big man has averaged 29.3 points, 12.0 rebounds and 9.0 assists; Not getting very stifled by the towering presence of Gobert.
Prediction: Nuggets in five
Game 2:
(7) New Jersey Nets vs (2) Toronto Raptors; 1pm ESPN
The Nets have a new coach, and were one of the more pleasant surprises of the Bubble. Much like Steve Kerr did when he took over in Golden State, new head coach Jacque Vaugn dramatically overhauled nearly every aspect of the team's strategies.
Offensively, Caris LeVert has taken a major step forward, along with Jarrett Allen and even Joe Harris (who seems to be playing with maximum hustle at all times like a college player that can't shoot the ball). Whatever is going on over there, it's working. Adding Kevin Durant and Kyrie Irving into the equation could spell trouble for the East in upcoming years.
Here's a little snippet of that new offense, cribbed from this excellent breakdown by our friend Matt Brooks:
The defending NBA Champion Toronto Raptors aren't to be underestimated though. Even after losing Kawhi Leonard to free agency, this is still one of the teams to beat coming out of the east. The core of Fred VanVleet, Kyle Lowry, Pascal Siakam, and Marc Gasol have proven themselves up to the task of defending Canada's first ever NBA crown.
In their (admittedly, potentially meaningless) matchups this season, VanFleet averaged a team-high 26 points per game against the Nets, but it's really Siakam that presents the biggest challenge in my eyes.
In a playoff series, teams often play like an NFL team that will just keep running the same play over and over again until the other team stops it. Here, it is really not clear where the Nets will look for a solution to Siakam - while also preventing OG Anunoby from going nuts in the coverage gaps.
Prediction: Raptors in 4, they will shred the Nets on the fast break and Siakam is a matchup nightmare.
Game 3:
(3) Boston Celtics vs (6) Philadelphia 76ers; 3:30pm ESPN
Philadelphia has two of the leagues most dynamic players, but it's been a tandem that hasn't reliably come together. Drafted via "the Process" both Ben Simmons and Joel Embid are mercurial stars with tons of talent, but some limitations to their game. In the Free Agent signing of Horford away from the Celticsd, the Sixers took a risky, big budget, roster construction risk, but it may all be a moot point without Ben Simmons who will miss this series after dislocating a kneecap.
Interestingly, Horford's old team will be facing his new one in the first round.
The Boston Celtics made some major roster moves over the offseason, and new point guard Kemba Walker is one of the least discussed additions to any team this year. As usual, his health will be one of the major determining factors in his team's chances, and if he can stay healthy, watch out for the Celtics.
Here, it probably won't matter exactly how good Jason Tatum can be for the Celtics (very good) because the loss of Simmons is going to series of a bad domino reactions, both offensively and defensively, for the Sixers.
Prediction: Celtics handle the Simmons-less Sixers, but we all lose our hearts (again) to Alec Burks
Game 4: Dallas Mavericks (7) vs Los Angeles Clippers (2); 6:00pm ESPN
A strange thing happened in the Orlando Bubble, the top teams generally underperformed, and most of the big stories were associated with lower tier teams. For the Dallas Mavericks, the timing of this series couldn't be better.
All season, the Mavericks have had a top offense, often reaching historic heights (in the midst of a freakishly successful offensive year overall). Even so, the duo of Porzingas and Doncic has solidified over recent weeks as one of the most fearsome pairing in the Bubble.
This is a young team that expects to contend for a long time, but one that is also not going to step politely aside for the NBA elders.
Los Angeles has had an uneven season, but remains one of the favorites to win a championship this year. When fully healthy, the Clippers boast a complete roster featuring top flight All NBA talent, as well as a competent and experienced bench.
However, as has been the struggle all season with this team, health remains a concern as the playoffs commence.
Harrell for his part will clear quarantine soon (perhaps as early as tomorrow), but will not have practiced or been with the team for weeks. As we saw with recent Golden State teams (no, not this season, but the ones before that, for sure) there is a known lackadaisical approach that championship teams tend to take during the regular season.
It's a long haul, and Kawhi Leonard has proven to be a master of managing his minutes so that he's ready to deliver when the games count.
I don't expect that to change this year. I've got the Clippers going deep this year; health permitting, probably all the way.
Prediction: Clippers main guys are just too much for the Mavs, but it's not going to be easy; Clippers in a tough 5 games.