Discover more from Dub Nation HQ
High Quality coverage of the Golden State Warriors with the best commenting community in the world.
Over 3,000 subscribers
My Worst Take: Coach Mark Jackson should not be fired
I swear that Eric Apricot did have reasons for thinking this.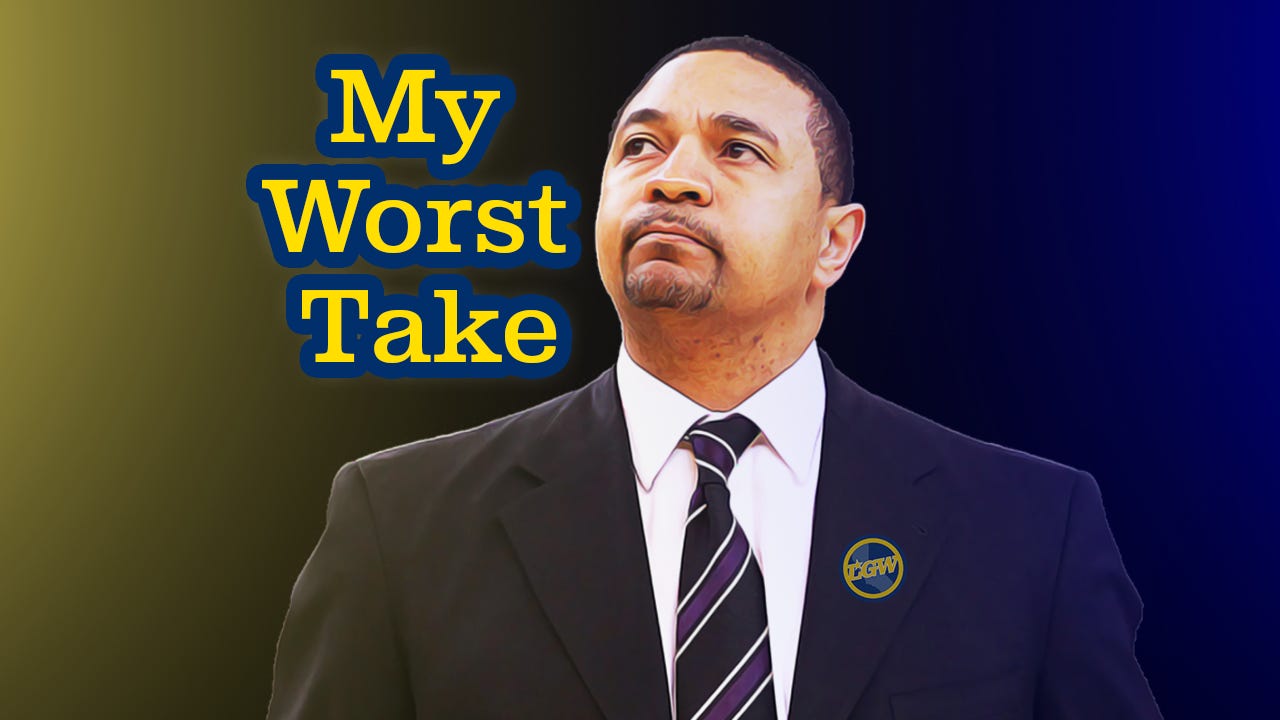 We are all taking a turn in the box as we get shredded as we confess our past Worst Takes. So far the series is:
Duby's take that GSW will never compete again after the Wiggins trade.
Today it's Eric Apricot's turn.
Eric Apricot:
I admit that right after the bitter 2014 Game 7 loss to the Clippers, I thought
Coach Mark Jackson should NOT be fired
. 
Fire away. 
Daniel:
I co-sign this sentiment. 
Apricot:
Now in my defense, I— what? Okay… please proceed. 
Daniel:
I thought Pastor Mark was unfairly canned. Were the Warriors dead last in passing? Yes. Did most of their crunchtime offensive possessions boil down to Steph or Klay or somebody jacking up a heroball heave in isolation? Absolutely.
Actually, just remembering that end of game Curry possession against CP3 is causing me to have hot flashes. IS THAT THE BEST YOU COULD DRAW UP, COACH JACKSON???
Apricot:
STEPH WAS FOULED!!
(See the end of this highlight video to decide yourself…)
Daniel:
He was definitely mugged. Oh yeah and also why didn't we double team Blake Griffin more? He was destroying David Lee. Literally backing him down from the three-point line for dunks and layups! Where were the adjustments?!
(Check at the 1:52 timestamp.)
Apricot:
Hey, I thought you were getting in the box with me. You're setting the box on fire!
Daniel:
I'm trying to be on your side! Wait, didn't he make Festus Ezeli cry by telling his teammates that Festus was happy when they lost while he was out with injury? These stories sound bizarre in retrospect.
Apricot:
I think I want a new lawyer.
Daniel:
Okay, let's start over. Why did you feel Pastor Mark was fired too soon?
Apricot:
Because the Dubs had sucked hopelessly for so long, except for about two months of glory which was then immediately traded away for no good reason. 

Because GSW had been synonymous with No D for decades and now we had a team that was actually really good on D.

Because Steph and Andre clearly loved Jackson.

Because they took the Clips down to the last two minutes of Game 7 without a proper center.

Because yeah the offense had the creativity of someone who just installed NBA2K, but I appreciated that if you spend precious practice hours on something, then the defense had to come together first.

Because Jackson was the first to swag up and say Steph and Klay were the best shooting backcourt ever, way way way before that became acceptable. I will pause for now.
Daniel:
THOSE ARE ALL FACTS. Let's also not forget that he prayed over Steph's glass ankles...
(Eric makes an embarrassed "move on to the next point" twirl with his finger.)
(Daniel vigorously raises in the air an autographed copy of "Golden: The Miraculous Rise of Stephen Curry" by Marcus Thompson II, where this anecdote stems from.)
...and galvanized much of the team behind their spiritual beliefs. Coach Jackson's ability to foster a "nobody believes in us" bunker mentality was the reason this team could surge out of the basement into the rarefied air of the the Lakers, Spurs, and Heat.
Buuut I think that was what was jarring about the loss to the Clippers and inconsistent performances during the regular season. It seemed like this team had so much potential, but when it came to breaking through AND finishing the job, they seemed unprepared. That's the coach's fault.
I believe it was pretty clear at that point that Mark Jackson was a better motivator than he was a tactician.
Apricot:
I don't know. It was such a weird series with the whole Donald Sterling craziness, and Coach Jackson dressing like he was attending his own funeral, and it basically had a random ending in Game 7. 
I know this is itself a mildly hot take, but I think GSW overachieved in the series against two top NBA bigs, while missing all their centers (no Bogut and no Jermaine O'Neal).
(Now I know you may say that he alienated Bogut by saying he was soft and injured himself sleeping wrong. But now that we know about Bogut's Pizzagate-curiousity, CAN YOU REALLY BLAME COACH?)
I went back to look at some of the details of that series end, and I forgot some of these crazy smaller details. 
The Donald Sterling mess with Clips and Dubs threatening to strike in solidarity

The whole petty chapel time conflict by LAC, which was later echoed with CP3's kicking Steph and gang off the court before 2019 HOU Game 6.

And then they had the original fight in the Staples tunnel, which CP3 again would later repeat in that weird tunnel feud (I think in a Rockets-Clippers game)?
Prosecutorial Rebuttal by Duby Dub Dubs
Duby:
Ladies and gentlemen of the internet jury, allow me to retort to this unabashed Mark Jackson apology tour. 
First of all, as cool as the switch from whatever defense Don Nelson was running to Mark Jackson's ICE schemes were, let's take a moment to review the franchise movement that coincides with Jackson's arrival. 
In his first season with the team (2011-2012) the Warriors defense ranked 27th out of 30 teams. In 2012, the team adds Andrew Bogut, Festus Ezeli, Draymond Green, and Harrison Barnes - and they climb to 14th out of 30 teams. Finally in the 2013 season (Jackson's last with the team) Golden State adds Andre Iguodala and makes the final climb into elite defensive territory - ranking 5th in the NBA - where they stayed until recently. 
Secondly, the offense. This was my main knock on Jackson at the time. If you'll recall, Jackson's offensive approach was very much "put the ball in the hands of your best player, and let him go to work." Let's remember for a moment what Steve Kerr was able to do, with essentially the same roster. 
"By the end of the season, the Warriors ranked second in offensive efficiency and first in defensive efficiency. They averaged 315.9 passes per game, nearly 70 more than the season before -- the second-biggest leap in the league. They had the highest increase that season in assists per game and secondary assists per game"
Now sure, maybe you can argue that Kerr's genius shouldn't be a knock on Jackson's tenure, but this was a roster with some extremely dynamic playmakers, and Jackson had them playing "my turn, your turn" offense. 
Third, if he's so great, why doesn't he have another coaching job? Let's review the weirdness. Let's re-state these issues: 
The Ezeli drama mentioned above

That his ultra-religious approach grated on non-believers like Bogut

Mark Jackson's feud with assistant coach Brian Scalabrine, making him quit

MJax's feud with other assistant coach Darren Erman, who ended up playing Spy vs Spy with recording devices to try to catch out Jackson abusing him and was eventually fired for this.

MJax's taking long periods of time away from the team to run his SoCal church.
There was enough here and available at the time to know that the firing was necessary. And that, ladies and gentlemen of the jury, is why I submit that this was indeed, a bad take. 
Daniel's last edit after watching a Frederick Douglass documentary at 2AM on YouTube
Daniel:
So it's Black History Month, and we're NOT gonna talk about the NBA's penchant for firing successful black coaches right before the team wins a title???
(GLARES AT TORONTO RAPTORS WHILE TRIGGERED.)
Apricot's Final Defense
Apricot:
Now, in 2020, I know this take was wrong. In fact in August 2014, I knew it was wrong. In my defense, right after the 2014 Clippers series, I did not know the most damning parts of Jackson's record until later, particularly Coach Jackson's feuding with his staff and managers. Once I knew the big picture, I knew the firing was necessary. 
This was obviously, with hindsight, the incorrect take. Steve Kerr installed a motion offense that unlocked a sleeping giant of a historically great attack. He also brought in a new era of very talented assistant coaches (legendary Ron Adams, Alvin Gentry — hired away by the Pelicans as head coach; Luke Walton — hired away as head coach of the Lakers) that supported him, not wiretapped him. He oversaw the greatest Five Year Run in NBA history.
HOWEVER, GSW absolutely lucked out that after firing Coach Jackson, Steve Kerr didn't go coach for his mentor Phil Jackson for the Knicks instead. The timing was lucky that Kerr could back out of that agreement and that Phil was supportive.  If Kerr hadn't gone Golden, the alternative being pitched was…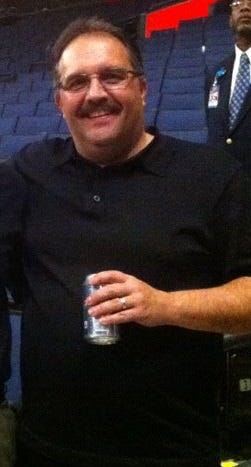 STAN VAN GUNDY!!
And if we'd gotten SVG, there is a very good chance My Worst Take would be everyone's take, as we all pined for the good old days of the Pastor Mark Playoffs. 
And Finally, Steph's Take
Steph on Mark Jackson's strengths, on how he didn't want MJax fired, and Matt Barnes even chips in with his own observations since he played on the hated Clippers until 2015 and with Steph in 2017.
Your Take
Feel free in the comments to (respectfully) shred our arguments, or confess your own Worst Take.
---
SuperComments?
Do you want to supercharge your comments with chronological order, much-liked comment backgrounds and seeing some formatting? Try out the experimental bookmarklet.
If you want to support content like this (but with better takes), mash this button.