Discover more from Dub Nation HQ
High Quality coverage of the Golden State Warriors with the best commenting community in the world.
Over 3,000 subscribers
Marquese Chriss and Eric Paschall tandem is ready to be tested
Stephen Curry still "questionable" as championship hopeful Clippers come to town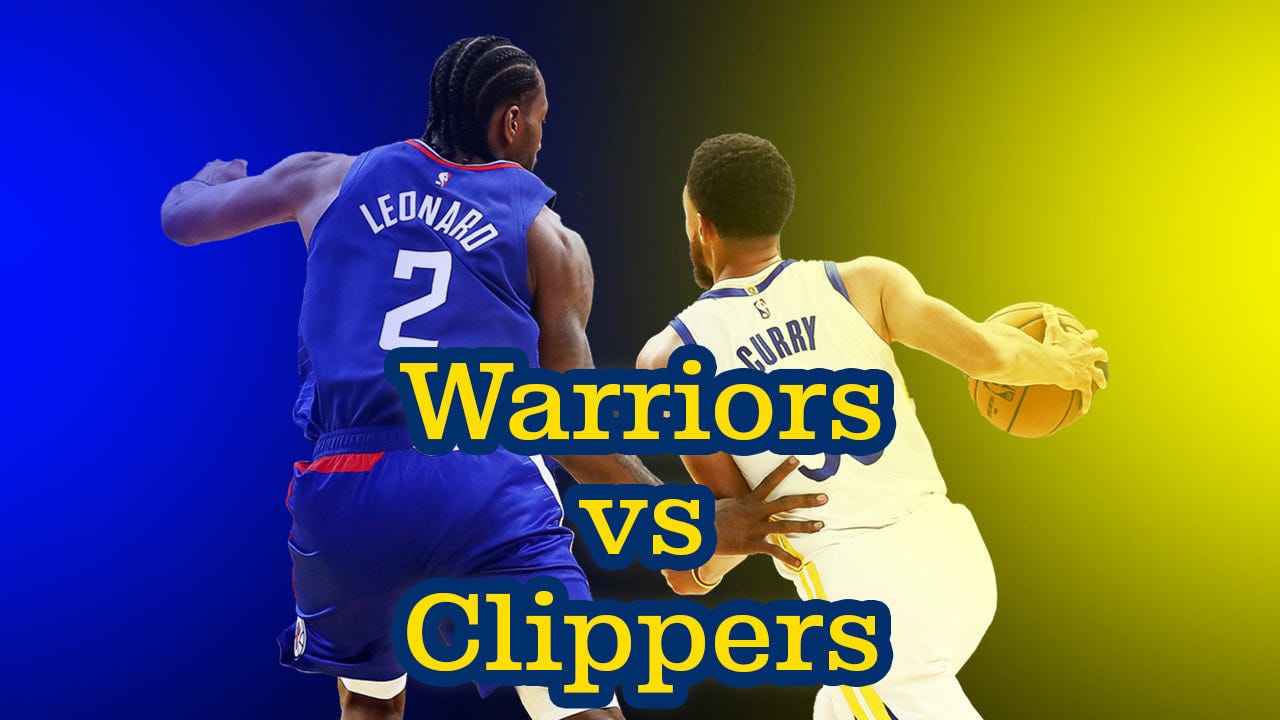 As the Golden State Warriors continue to wobble their season towards it's merciful end, some of the positional uncertainty remains, even as role players emerge from the pack. Playing against a team as strong as the Los Angeles Clippers is still a useful barometer; a nice chance to see how some of the developing elements match up against their counterparts on a top tier team.
For now, Stephen Curry is tentatively "questionable" as he recovers from a normal flu - which is an extremely fortunate close call against the broader backdrop of a world battling an emerging pandemic.
This is becoming a bigger and bigger deal. Santa Clara County yesterday declared that no gatherings of over 1,000 people could occur for the next three weeks, including San Jose Sharks games.
I don't know how or when, but expect additional actions from the NBA, whether internally driven or forced from the outside. It's pretty silly to ban a dozen reporter and require a 6-foot gap while tens of thousands of strangers stream into stadiums and spend two or three hours sitting and screaming within inches of each other.
---
GAME DETAILS
WHO: Golden State Warriors (15-49) vs. Los Angeles Clippers (43-20)
WHEN: Tuesday March 10th, 2020; 7:30 pm PDT
WHERE: Chase Center, San Francisco, CA
WATCH: TNT
---
The Marquese Chriss and Eric Paschall tandem
Kevon Looney is out for at least three weeks; Draymond Green, Stephen Curry, and Alen Smailagic are listed as day-to-day, but as the team limps through a stream of significant injuries, a unique opportunity has been presented. Normally, teams must balance a need to win every game against player development, but in this gap year for Golden State, they've been freed to experiment.
The mad lab scientist scattershot approach appears to be coming to fruition at just the right time. After swinging and missing on most of their recent draft picks (Jordan Bell, Jacob Evans and Damian Jones are all, or mostly, out of the league) the timing couldn't be better for the Warriors to strike gold - once on a low pick, and then again on a player bordering on out of the league.
Previously, we've focused on single players that have stood out. But given the general dearth of depth that Golden State is sure to be facing next year - regardless of any roster moves - it makes a lot of sense to talk about the synergies that are developing between players likely to stick around and play a meaningful role with the Warriors next year.
Individually, both players are doing well recently.
From Reddit user MiNDGaMeS87, take a look at Chriss' stats since signing his long-term contract with the franchise - his numbers are up, across the board:15 points, 9.2 rebounds, 2.8 assists, 1.4 blocks, and nearly a steal per game: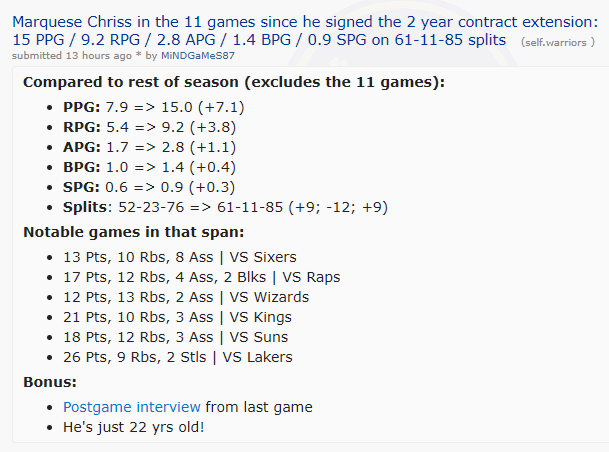 Eric Paschall is a "tweener" in all the right ways. His combination of size and speed presents a matchup problem - but more importantly, his game is already advanced enough to know how and when to take advantage of those mismatches. 
At 6'6" and 255 pounds Paschall's game is mostly built around shouldering through contact, and it's been incredibly effective for him.
Coach Steve Kerr has called him zero maintenance, and as Marcus Thompson of The Athletic pointed out, Paschall appears features heavily in the Warriors best lineups since the All Star break:
Since the break, the Warriors' three best lineups include Paschall with one big and three wings. In fact, the Warriors' best lineups all season, based on plus-minus, have been with two bigs and three wings. Chriss and Green together with Russell, Damion Lee and Glenn Robinson III were a +53 in 69 minutes. It was easily the Warriors' most effective five-man unit. The second-most effective: Chriss and Paschall with Andrew Wiggins, Lee and Mychal Mulder.
The Clippers are for real, for real
One of the funny parallels that the Warriors are running into this season is that they now sometimes find themselves on the wrong side of a mismatch. The Clippers are a legitimate title contender, the Warriors have about a 90% chance of finishing the season with the worst record in the league.
On paper, from the Clippers perspective, this is as close as you can get to a meaningless regular season game - other than staying healthy and some vacuous ideal about "playing with the right habits."
Despite dealing with a multitude of injuries, the Clippers are currently sitting in the top 5 for both offensive and defensive efficiency. Their core four of Kawhi Leonard, Paul George, Montrezl Harrell, and Lou Williams is more than potent enough to contend against any other team in a seven game series - so a meaningless March loss against a team like the Warriors isn't a factor for them.
But as we saw with the Warriors, that's precisely why the Warriors could steal this game.
As Robert Flom mention in our Q&A, the Clippers are probably more likely to lose to bad teams, than they are to good ones (Sunday's loss to the Lakers aside)
One of the odd things about this Clippers team is that they've played much like a team in the latter years of a dynasty (last year's Warriors is a great comp) that can cruise through the regular season and then rev up for the playoffs. They've failed to show up for early Sunday games, laid down at odd times against mediocre teams, and fallen apart defensively on numerous occasions. 
Prediction