LeBron and Lakers eliminating doubters; Giannis eliminated
The Heat advance by crushing the Bucks' dreams of grandeur, while LeBron James reminds the world that he's still the King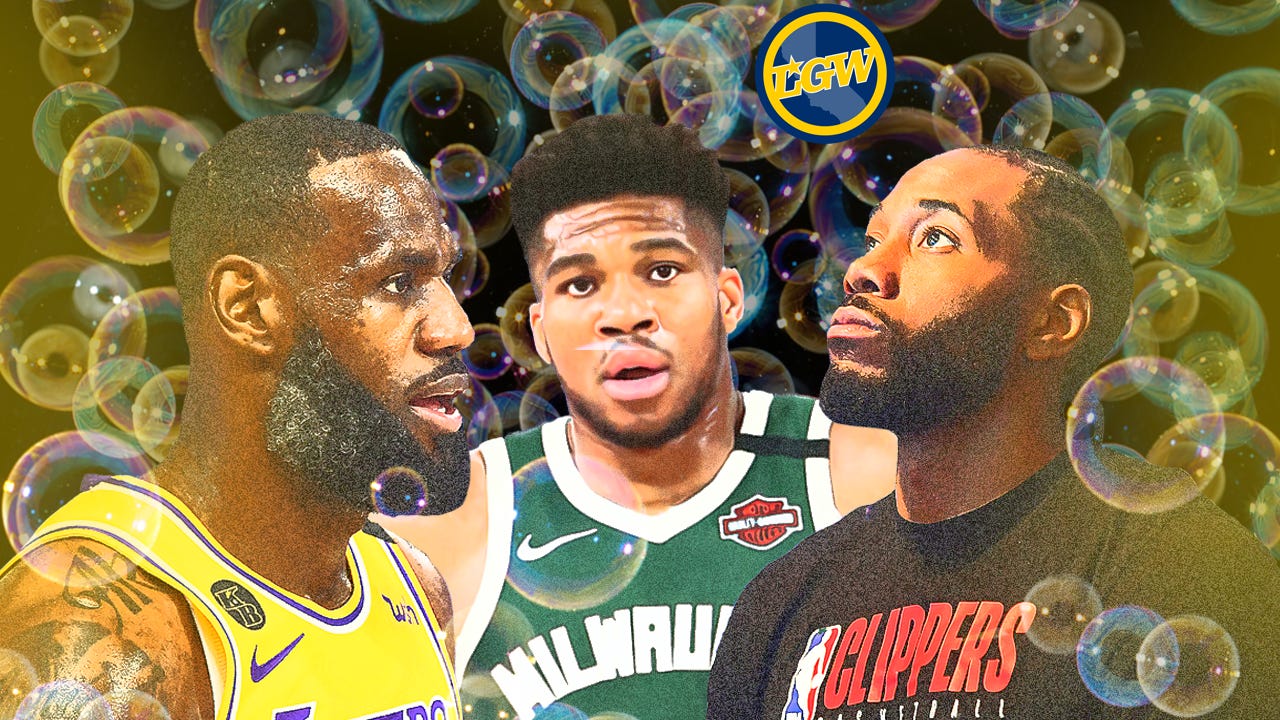 It's hard not to think about how the Golden State Warriors would have changed the outcome of this year's NBA playoffs. Without the Warriors (a team that has been in the Finals every single year since 2015), the chase for a championship is as wide open as it has ever been.
And so, more than has been the case in recent years, top players are finding fans and media pundits champing at the bit in anticipation of vindication posts when their teams advance - or get eliminated.
Giannis has fallen
I am going to exercise extreme discipline and not talk about the image in my head of Jimmy Butler in a camo hat, driving a lifted truck with buck antlers on the hood like a Cadillac hood ornament; with Andre Iguodala peeking around from Jimmy's passenger seat.
But no matter how you slice it, the top seeded Milwaukee Bucks, advanced stats darling of the 2019-2020 NBA season, are done. Another victim of the surprisingly adept Miami Heat team. Led by Butler, the Heat's swarming defensive style stymied the Bucks on one end of the floor, and flummoxed them on the other with a brutal combination of inside and outside attacks.
Miami now waits for the resolution of the Celtics - Raptors series; where Boston currently holds a 3-2 lead.
For Giannis Antetokounmpo, it's a tougher than normal playoff exit. After getting the business from the Heat, he was playing fantastic prior to going down with an ankle injury that held him out of the last game-and-a-half.
Now, all eyes turn towards the all important question of "what next" for Milwaukee and their Superstar. The entire NBA has spent years salivating at the thought of somehow beating the odds to add a player of Antetokounmpo's caliber. Already the longest of long shots, the rumor mill was dealt a temporary setback when Chris Haynes of Yahoo sports asked him directly about impending free agency, or questions of any imminent departure from the Bucks:
"It's not happening. That's not happening," Antetokounmpo told Yahoo Sports after the Bucks were eliminated in five games in the second round by the Miami Heat on Tuesday night.

"Some see a wall and go in [another direction]. I plow through it. We just have to get better as a team, individually and get right back at it next season."

Antetokounmpo, 25, is eligible for a super-max extension this offseason that is expected to be worth around $254 million over five years.

It's the second straight season the Bucks have entered the postseason with the NBA's best record but failed to advance to the NBA Finals.
Don't worry though. This is just a minor, temporary setback. We can get back to dreaming up unlikely trade scenarios in no time!
For the Bucks, they've got some soul searching to do after getting soundly defeated by an unheralded #4 seed. Coach Mike Budenholzer's unimaginative coaching and weird substitution patterns are partly to blame, but so too is the series of financially motivated offseason moves that allowed Bogdan and Mirotic to walk away without any meaningful return of assets. If the Warriors (or other financially capped teams) are looking to add Giannis, it almost has to be this offseason - but then again, these big name free agent discussions have never been couched in probability.
LeBron engages King mode, demolishes Rockets with some unlikely help
In the other game yesterday, NBA elder statesman LeBron James turned up the intensity in the second half of a critical game 3 to put the Rockets on notice that just because there's no Warriors to get through, does not in any way mean that the Rockets are going to advance far in these playoffs.
Like much of the world, professional basketball players are not constantly going at 100%. We can't, as humans. It's too exhausting to give everything your all constantly. LeBron James is undoubtedly one of the very best basketball players to ever live, but his effort can be… uneven, at times. It lulls us all into a false sense of complacency.
James went absolutely nuclear on the defensive end last night. As Anthony Slater of The Athletic writes, his four blacks in this game matches the total number of blocks James had in the entire month of January.
Here's the sequence from Slater's youtube channel (which is a near mandatory follow, if you do stuff like that).
For James Harden and the Rockets, they may have slipped past their main adversary, only to find themselves again outmatched in the Playoffs. The fact that Rajon Rondo has emerged from obscurity as one of the players they are having trouble against can only deepen the wound.
Expect game 4 tomorrow to be another high intensity affair.
Today's games: Celtics have champs on the ropes; and the Clippers-Nuggets slug fest
Today at 3:30 (game will start closer to 3:45) on ESPN, the defending champion, Toronto Raptors find themselves facing elimination. Down 2-3 to the Celtics, the Raptors may be out of adjustments - other than some sort of Mark Jackson "dig deep and be better" shakra awakening.
This was a series that captured my heart and soul, but the last game was an uninspiring wire-to-wire blow out. Here's hoping for some fun, high intensity basketball - but if not, and the Celtics advance to play against the Heat sooner rather than later, I won't be mad.
This evening, the Clippers and Nuggets continue to wage their war of attrition. The Nuggets can't stop the Clippers post penetration, while the Clippers have absolutely no answer for Nikola Jokic.
These have all been close, competitive games, but for some reason, one that I'm struggling to get into watching. Maybe it's stylistic, or maybe I am just so low on Denver's chances that the series doesn't hold much intrigue. Either way, the Clippers could go up 3-1 with a win tonight, so expect the Nuggets to treat this one like an elimination game.