Discover more from Dub Nation HQ
High Quality coverage of the Golden State Warriors with the best commenting community in the world.
Over 3,000 subscribers
Lakers vs Nuggets: Strength on Strength as Western Conference Finals kicks off
Plus: "y'all on some bulls**t" - Celtics down 0-2, stretched to breaking point by Heat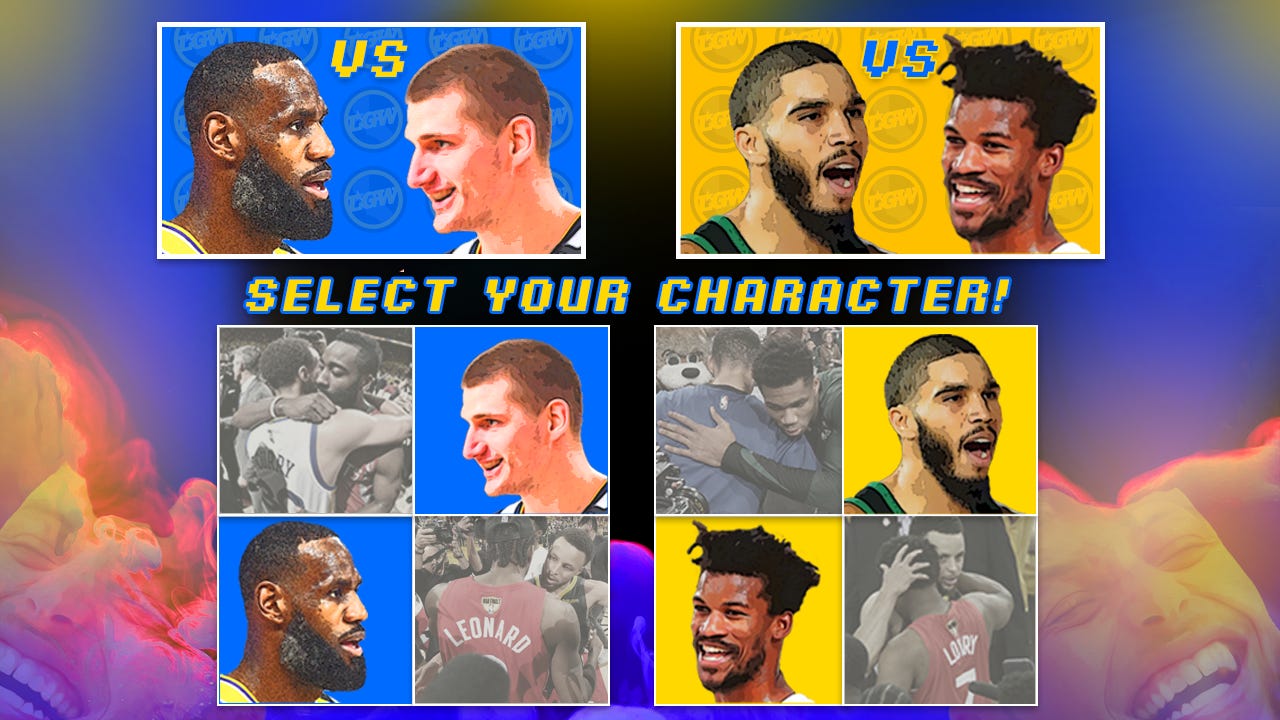 As much as we all want to pretend like the NBA is continually defined by a certain archetype, the truth is that this has always been a talent-driven league. LeBron James ushered in an era of a new hybrid "big" that emphasizes well rounded play and some guard skills in a bigger body. Kawhi Leonard and James Harden have more recently led to an increased importance on switchable wings: guys that can score in a variety of ways, but also be flexible enough to cover someone like Kevin Durant or Stephen Curry.
So who is Nikola Jokic and how on Earth has he fomented this big man rebellion? After plowing through some tough competition, Jokic and his Denver Nuggets are in for their toughest challenge by far - LeBron James and Anthony Davis, and their stacked Lakers team. Can the Nuggets upset another LA team featuring a star duo? We are all about to find out when game 1 of the Western Conference Finals starts today at 6:00 pm on TNT.
It's a big man's world out there
While the Clippers struggled mightily before giving up against the Nuggets in seven games, there was a strategic element at play that the Lakers will not bump up against. Other than an outmatched Ivica Zubic, the Clippers didn't have anyone with size, forcing them to either let Jokic dismantle them on the interior, or choose to send a double team which left ample opportunities for cutters and wing players to profit off the excellent passes from Jokic.
The Lakers will have no such concern. LeBron James is enormous, but it's really going to be the trio of Anthony Davis, Dwight Howard, and our old friend JaVale McGee. Jokic has opened a number of eyes around the league, but the Lakers - with their combination of media adoration and top end talent - will present the biggest challenge of the Serbian big man's NBA career.
It's a strange change for a league that has mostly focused on discussing wing players and ball handlers.
How the Nuggets win: pick-and-roll to the death
The blueprint has already been developed when the Portland Trailblazers stole a couple of games by packing the paint and daring the Lakers role players (or really anyone) to hit from outside. It was working well until Dame Lillard went down and the rest of the house of cards in Portland crumbled down around him.
Though Denver doesn't have an elite defense (11th ranked defense in these playoffs, as per NBA) but what they do have is a large body to clog the point, and a frenetic group of wing players that have proven to themselves that they can come through in big games. Packing the paint against the Lakers isn't just about the Denver defense, look at this lowlight from the Rockets series, where LeBron James lamely drives the ball into a set defense after realizing the rest of the team wasn't going to make anything work.
As much as the vaunted performance of "Playoff Rondo" has wowed me, the Lakers have generally looked their most dangerous when playing small. Depending on what Lakers coach Frank Vogel wants to do with his Centers, the spacing concerns for Los Angeles will be something to watch.
The Denver offense is not super imaginative, and they'll be heavily reliant on the Murray-Jokic pick-and-roll attack to carry the offense. Much like spamming a move in a video game, the Nuggets might just stick with what got them here until the Lakers show they can stop it. The other teams in Denver's way never really figured it out - according to Sports Illustrated, "Jokic averaged 1.06 points per post-up in 2019-20 (second among all players with at least 100 attempts) and only six players scored more points as a big man in pick-and-roll situations."
Something tells me Dwight Howard and JaVale McGee may not be as playable in this series as they appeared on first glance.
Also, don't overlook Jamal Murray. He torched the vaunted wing defense tandem of Kawhi Leonard and Paul George. He's going up against Rajon Rondo and Alex Caruso, both solid but unremarkable players. Without Avery Bradley (opted out of the bubble) it may fall to Danny Green to cover Murray - and I personally really like Denver's chances to come out on top of any of those matchups.
How the Lakers win: NBA Jams logic
The Denver Nuggets faced elimination multiple times, down double digits in just about every game. Denver, the only remaining team in the playoffs with a negative net scoring differential, has survived largely on miraculous late comebacks fueled by miraculously good outside shooting. They're also facing a Lakers team that pretty much unarguably has the series' two best players in James and Davis.
If this was the NBA Jams video game, and it was just James and Davis against Jokic and Murray, the Lakers are the better team.
So all the Lakers really have to do to win is not screw anything up. Los Angeles is favored tonight by 7 points and widely expected to advance past the underdog's from Denver.
While the Clippers are their own disaster story, it's worth noting that Denver's defense limited the heavily favored Los Angeles Clippers to an average of 97 points over the final four games of the last series. If the Lakers hope to advance, their path is very clear.
In crushing the Rockets, a lot questions were raised if the Lakers really went "small ball" or not. Sure, they say Dwight Howard and McGee, but I would personally argue that Anthony Davis is a natural center.
If the series comes down to it, the direct matchup of Davis versus Jokic is one that LA needs to win. Jokic averaged just 16.3 points in his four regular-season games against the Lakers, who used a lot of Dwight Howard in their defensive mix. But in these playoffs, Jokic is up to 25.4 points per night to go along with nearly 11 rebounds and six assists per game and it's Davis that is the more potent offensive force.
You see, the Lakers are top heavy in a way that Warriors fans will understand, and there's no third star on that team. Lebron and Anthony Davis will need to dominate in this series.
Prediction:
Lakers in 6 because they have LeBron.
"y'all on some bulls**t" - Heat's late game heroics crush Celtics late for second consecutive game
The surprising Miami Heat continue tearing through the league, smashing the Boston Celtics late in the 4th quarter last night to move up 2-0. It was, once again, a highlight reel of late game heroics from Jimmy Butler and his Heat team that came out on top.
After the game, there was a loud argument in the Celtics locker room, punctuated by Marcus Smart allegedly yelling back at his team mates that they were all "on some bullsh**t."
Sure, after a high stakes loss tempers are high, but was Marcus Smart on to something? Is there something deeper wrong with Boston? Are they, in fact, on some sort of BS?
It's a valid question, and one that gets at the heart of how closely anyone should be taking the Miami Heat right now.
Notably, it was a late game collapse against the Heat's zone defense that was at the root of their offensive struggles. as highlighted by those Butler steals above, the Celtics offense ground to a painful, ugly halt right when the game started to matter the most.
Whether Boston is out of sorts or not, the Heat made them look softer than a peeled grape as they smashed their way out to a 2-0 lead.