Lakers advance after Rockets (again) fail to achieve exit velocity
Dawn Patrol! Clippers Nuggets at 10am today, as NFL season kicks off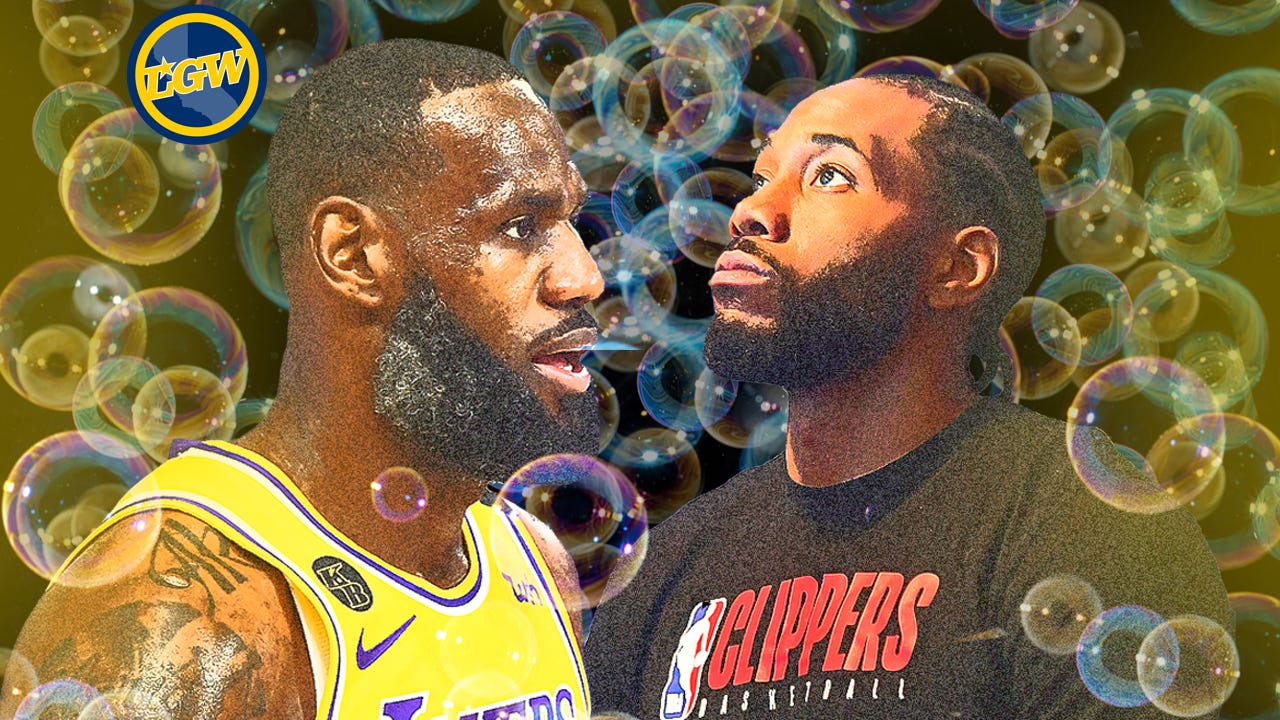 First of all, congratulations to LeBron James, Anthony Davis, and the rest of the Los Angeles Lakers for advancing to the Conference Finals for the first time since Pau Gasol played for the team. Count me among those that were most skeptical about the roster construction, but the Lakers have now advance to where I thought they'd go out.
Presumably the Clippers will put away Denver this morning, setting up the LA versus LA battle that has seemed inevitable since the offseason lined these two teams up.
Houston, you have a problem.
Maybe it's all the flopping from their star, or the fact that the team made up a bunch of complicated math for the sole purpose of whining to the league office about perceived slights, or maybe it all started when James Harden said "they ain't even that good" in reference to the Golden State dynasty - right before getting smoked out of the playoffs… Every. Single. Year.
Whatever the reason, it quickly became apparent that I'm not the only one that enjoys dunking on this Rockets team, as the internet quickly descended on the still warm corpse of Houston's championship aspirations after they were eliminated in a gentleman's sweep.
It was an especially ugly exit, with Russell Westbrook getting into it with Rajon Rondo's brother (who allegedly described Westbrook as 'trash'). Beyond the interpersonal dynamics, this is a team that is forced to confront their bloated salary cap sheet, and should take a long hard look in the mirror. Under General Manager Daryl Morey, the Rockets have tinkered with everything - James Harden is the only player that has stayed with the team since they first met the Warriors in the 2015 playoffs. They pushed the Warriors to seven games once upon a time, and were up by double digits at halftime in game 7 - but ultimately fell short.
This year's squad was a watered down version. After the team had it's hand forced by Harden's conflict with Chris Paul, they went all in on trading for Westbrook. Westbrook, who played so poorly that he was mostly ignored by the Lakers defense this series has 41, 44 and 47 million dollars coming to him over the next three seasons. Houston has no young talent developing in their pipeline, preferring to stack veterans around Harden; and their draft assets were mostly emptied in that Paul/Westbrook trade.
It's an inglorious end for a Rockets team that was tough, but just not tough enough to succeed at the highest level of NBA play. It's a cautionary tale of a team that was too eager to embrace a philosophy so hard that it made them rigid, and therefore fragile. They'll try to rebuild on the fly most likely, but any Warriors Rockets dramatic rivalry feels dead.
In the meantime, the internet is going to be merciless towards a team that once pushed the Warriors as close to the brink as anyone.
The Lakers are for real, for real
After failing to even make the playoffs during his first season in the Western Conference, many were skeptical that an aging James, even paired with a dynamic big man like Anthony Davis would be enough to do damage in a loaded playoff field.
But with the Warriors out of the way for a year, and other teams injured and/or struggling to find their rhythm (but more on the Clippers in a moment) this Lakers team is clearly as good as anyone.
As the always excellent Anthony Slater pointed out in his recap of last night's game, this Lakers team has now squeezed two of the league's best offenses into submission: they dropped Portland's offensive efficiency from a top 3 offense into the league's least efficient during the last round; and then did the same thing to the Rockets whose offense fell from 109 to 102 to 100 to 96 points in those final four losses.
Offensively, everything that was supposed to come together for this team has done so. Rajon Rondo looks like an All Star, Danny Green and Markieff Morris are making positive contributions, and LeBron has flipped the proverbial playoff switch and looks unstoppable - plus they have Anthony Davis.
The Lakers are waiting in the wings now for whoever emerges from the Clippers-Nuggets series.
Dawn Patrol: Clippers get second attempt to knock out Denver with an absurdly early game
As much as everyone would love to see a Clippers-Lakers Western Conference Finals (ok, well, not everyone, I guess), the Clippers will have to figure out a way to put Denver to bed.

The Nuggets came back from a double digit to beat the Clippers 111-105 and pull to within 3-2 in a series that has been oddly close. Both teams have been taking turns looking dominant and/or lost. The odds are still strongly stacked against the Nuggets who are fighting for a second straight 3-1 series comeback.
The Clippers bench, once a strength, has now become a weakness, and most alarmingly it appears to be a systemic impact of the matchups.
In the playoffs, Williams is averaging just about 13 points (22% from deep) and Harrell is averaging 10.1 points and three rebounds - neither has been any sort of positive defensive force either.
Jokic is a huge problem for the Clippers, in a sign that does not bode well for any potential matchup against the Lakers. As per the LA Times: of the 38 shots Harrell has defended in this series, Denver has made 22 of them. Denver center Nikola Jokic has shot 71% — 10 for 14, including three for three in Game 5 — when defended by the 6-foot-7 Harrell.
To my eyes, the Clippers still look like the better team, but they've got to overcome their lapses of focus and effort, and figure out what to do when Zubac rests if they have any hope of fulfilling the LA vs. LA ratings bonanza dreams of the NBA.

FOOTBALL!
I grew up watching Joe Montana and Jerry Rice, so I'm a Niners fan for life. Though my relationship with the NFL is extremely rocky these days, I'll be more than happy to see how this season unfolds.
They play today around 1pm, but it's really everything else that has pushed today's NBA playoff game to the ungodly early start time. I don't think we even played at 10am for High School tournaments.
Good luck to all of you, may your fantasy football teams rack up more points than the Splash Brothers in a three-point shooting contest.