Discover more from Dub Nation HQ
High Quality coverage of the Golden State Warriors with the best commenting community in the world.
Over 3,000 subscribers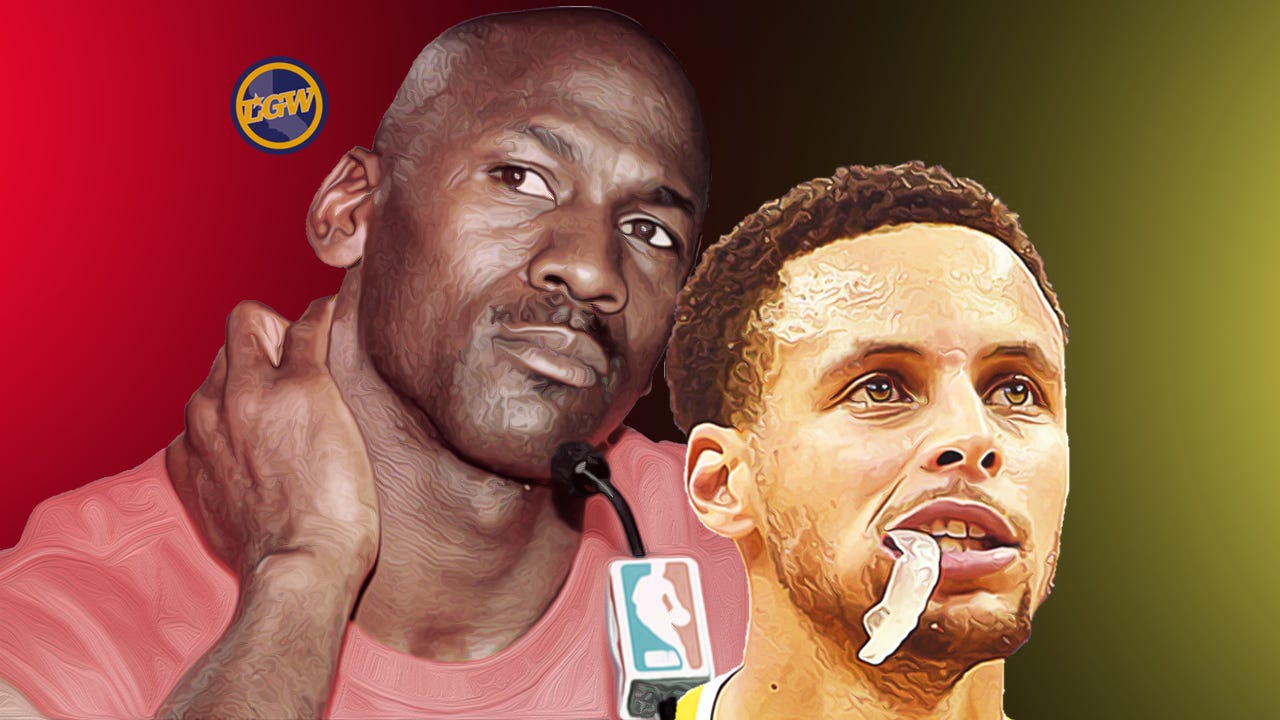 ESPN's 10-part documentary series "The Last Dance" launches today, a heavily anticipated chronicling of the final year for Michael Jordan's Chicago Bulls dynasty.
This quarantine treat will remind Dub Nation of the legend of MJ's Bulls, and the synergy between that old empire and the Golden State Warriors' recent dominance. The obvious connection between these two championship hoarding squads is Steve Kerr, current Warriors head coach and winner of three titles with Chicago.
But did you know about a Bulls-Dubs fun fact regarding Klay Thompson? His uncle Andy is the guy who pitched the idea for this fascinating documentary 23 years ago. By the way, when Klay broke the record for most three-pointers in a regular season game he did it in the United Center, the "House that Jordan built".
Whether past or present, the Bulls appear to be an inspiration for the Dubs' mojo. Perhaps that's why the Warriors have recently broken so many of Jordan's Bulls records.
The Warriors' emergence challenges Bulls G.O.A.T. status
When Golden State emerged from the depths of sucktitude and crushed the NBA during the mid-2010's, they shattered many of the Bulls' lofty records in their wake.
Most regular season wins in a single season
2016 GSW: 73-9 regular season record
1996 CHI: 72-10 regular season record
This record officially put the league on notice that the Warriors were a juggernaut of historic proportions, and Jordan himself encouraged Golden State's chase for 73. Golden State's performance proved how sensationally dominant a team could be during an 82-game season, and redefined how high we could all dream.
Longest home regular season win streak
GSW: 54 consecutive home wins spanning 1/31/2015 - 3/29/2016
CHI: 44 consecutive home wins spanning 3/30/95 – 4/4/96
Chicago was a terrifying place for opposing teams during the heyday of Jordan and Scottie Pippen. The Bulls winning 44 regular season games in a row there was a credit to their franchise's pride and their rabid fans.
But we can't forget there was a pre-Kevin Durant time period where the Warriors won 54 straight games at the crib, absolutely refusing to let an opponent taste victory in Oakland. We've not seen that vigilant a level of home protection since Macaulay Culkin was booby-trapping bad guys in "Home Alone".
Longest home playoff win streak
GSW: 16
CHI : 15
Per NBA.com:
Spanning the 2017 and 2018 postseasons, the Warriors won 16 straight games at Oracle Arena before finally losing to the Houston Rockets in the Conference Finals. The previous record was 15 held by Michael Jordan's Bulls in 1990 and 1991.
Most road wins in a single season
2016 GSW: 34-7 road record
1996 CHI: 33-8 road record
Jordan's Bulls were notorious for laying the smack down in an opponent's building. The Warriors did it it even better during their best regular season.
Best record over any four consecutive postseasons
GSW: 63-20 (.759) over 2015-2018
CHI: 51-17 (.750) over 1991-1994
#consistency
In terms of sheer dominance, there's a definite G.O.A.T. case for that 2017 Warriors squad. They won their first 15 playoff games and finished 16-1 after Cleveland stole one. Chicago's best playoff run came in 1991 when they rattled off a 15-2 record.
Pretty cool, right?
Time to study the masters
With basketball paused and the battle-scarred Warriors healing up to chase more titles, it's a good time to appreciate the Bulls setting the modern standard. Chicago's six titles in eight years is a ridiculously high bar, but the Warriors are well on their way with three rings in the past six seasons.
Hopefully this documentary provides some insight into the patience required to build a dynasty, and the fury it takes to protect one.
How real are the stories of Jordan's vicious motivational tactics? What was young Kerr's disposition in that fiery environment? How did coach Phil Jackson deal with Pippen's frustrations with the front office? Why didn't the team implode from Dennis Rodman's headline news antics?
Maybe this documentary will help us continue to appreciate just how special a group the Bay Area's basketball team has been, and how much further they can go in the pantheon of greatness.