Discover more from Dub Nation HQ
High Quality coverage of the Golden State Warriors with the best commenting community in the world.
Over 3,000 subscribers
Iguodala's return brought joy to Chase Center, and a W for the Miami Heat
Golden State's old friend still knows the ingredients for fun, winning basketball.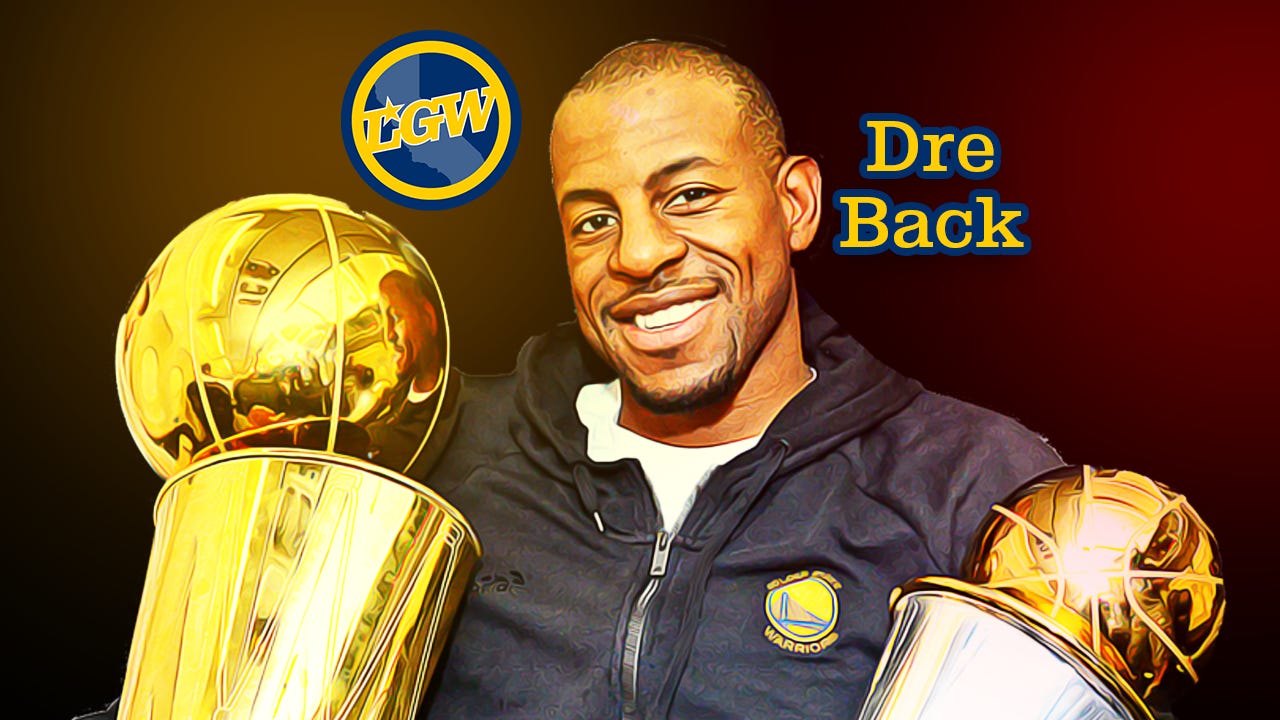 The Golden State Warriors lost to the Miami Heat 113-101 at home in an emotional game fueled by the return of Dubs great Andre Iguodala.
Golden State fought back from a 24-point deficit late in the second half, but it wasn't enough against a Miami team that's primed for a big playoff run.
Let's get into it.
Iguodala weaponized joy for two teams on the same night
"It's great to have another champion, another winner and just great overall human being in our locker room. Just the joy that he brings, more than anything.

He's always reminding guys it's OK to have fun. You have to love what you do. Competing is fun. Winning is fun. But more than anything, man, he's always smiling."

— Jimmy Butler on Iguodala's immediate impact on the Heat, per CBS
The first Finals MVP of the Golden Empire was back in the Bay Area, albeit as a member of the opposing Heat. Iguodala made his first appearance in a Warriors game since Game 6 of the NBA Finals when he nearly helped will the team to a Game 7.
There was a giddy buzz circulating through the arena before tip off as Golden State players and fans welcomed back the unselfish veteran who personified the "Strength In Numbers" ethos.
Stephen Curry and Klay Thompson played rock-paper-scissors pregame to see who would take the mic and address their mentor's return.
After that raucous celebration of Iguodala's legendary Warriors career, the man did what he's done for so many years by subtly guiding his team to a win. Here's the key sequence wherein his presence changed the game:
The Heat led 62-43 over the Dubs at halftime.

A monstrous Warriors run cut the deficit to 71-65 with 3:34 in the quarter. The Chase Center was rocking and the Heat appeared a bit startled that Golden State's band of journeymen and rookies were fighting so hard.

At the 3:34 mark in the period, Iguodala came off the bench for Miami. The Heat's pace-and-space game ratcheted up to blinding speeds as Iguodala snagged four rebounds and dished an assist to close the quarter. His ability to run point forward and initiate quick offense terrorized the Dubs, and the Heat went into the fourth maintaining a 83-75 lead.
The Dubs would never threaten again, with a fourth quarter dunk off a brilliant cut by Iguodala effectively slamming the door shut.
It reminded me of what Warriors coach Steve Kerr said long ago about Iguodala's presence generating instant pace when the Death Lineup was created. To see him use it against the Dubs was both painful and nostalgic.
His box score was SO ANDRE: 17 minutes, 2 points on 1-1 shooting, 5 rebounds, 2 assists, 1 turnover, +25 plus/minus. He's got plenty left in the tank, folks.
These Warriors are living at the line
The shorthanded Warriors kept this game relatively competitive in part because they converted 30-of-34 free throw attempts. The Splash Bros-era Dubs haven't been known for racking up shots at the charity stripe. During their five straight Western Conference championships between the 2015 and 2019 seasons, the Dubs were 27th in the NBA in free throws attempted.
Per Basketball-Reference, this was only the 12th time since the 2014-2015 season that the Warriors made 30 or more free throws in a game.
It's happened four times this season, including twice against Miami's physical defense.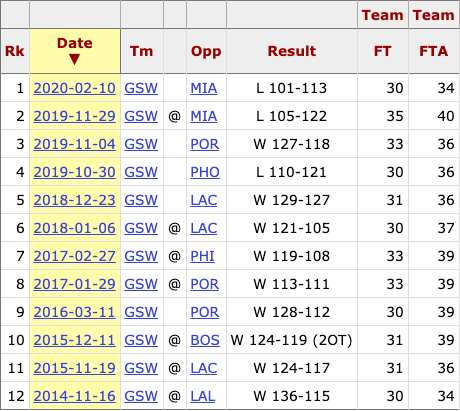 Here's Golden State's top four free throw shooters from last night:
Marquese Chriss: 7-9

Damion Lee: 7-7

Jordan Poole: 6-6

Andrew Wiggins: 4-6
Miami is a team that rotates well to defend the perimeter and funnel guys into tough contested shots. The Dubs shot a dismal 39% from the field and a rough 11-of-34 from beyond the arc. It was encouraging to see them generate almost a third of their point total from the free throw line.
Lee in particular has been a revelation this season. He led the team in scoring last night with 26 points on 7-of-12 shooting, 5-of-7 beyond he arc. He's showing an increased confidence in toggling between the catch-and-shoot or rim attacks.
When the Splash Bros return, those driving lanes will become more wide open, and the offense should hum at a far smoother pace.
Wiggins/Chriss watch
As we all wait for the Splash Bros return, special attention is being paid to abandoned-former-high-draft-picks-turned-Warriors-starters, Andrew Wiggins and Marquese Chriss.
Let's start with Chriss, who may be the greatest Warriors center since the days of Wilt Chamberlain and Nate Thurmond (jk jk lol).
Chriss had 17 points and 9 rebounds against Miami's tough front line. He's playing with an infectious rambunctiousness that pumps up his teammates and captures the SportsCenter highlights crowd.
THAT'S HOW YOU CATCH A BODY! This Sacramento native and 2016's #8 overall pick is only 22-years old and is looking stellar in the blue-and-gold.
Now, onto 2014's, #1 overall pick, the enigmatic Mr. Wiggins.
Wiggins struggled in the first half under the Heat's physicality; they walled him off from the rim and dared him to shoot. He passively obliged and early on his shot chart resembled a bad James Harden quarter. Here's his shot chart at intermission.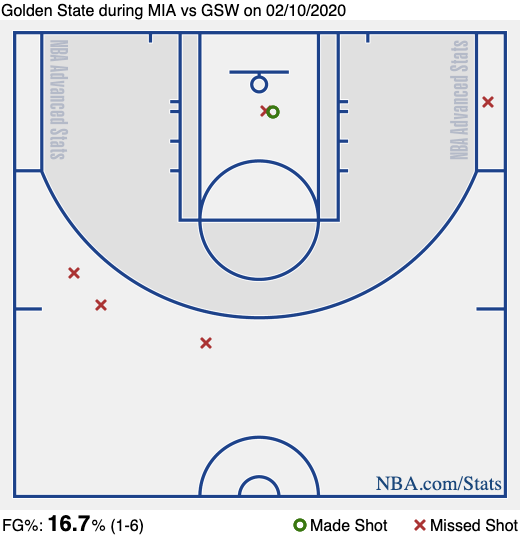 Even more alarming was the way he was getting torched by the Heat's opportunistic off-ball offensive scheme.
I could already feel the Wiggins-doubters who were momentarily shushed by his solid first game against the Lakers, rising out of the shadows flapping their arms wildly, squawking "BAD CONTRACT! BAD CONTRACT!"
But in third quarter, suddenly it seemed like Wiggins figured out how to find his shots in the Warriors' motion-offense. The ball started hopping around from Dub to Dub, with Wiggins decisively flying ready to shoot, pass, or drive.
Defensive clamps, eh? Offensive explosion, huh? With Wiggins on the floor you say? I wonder if that's replicable…
He finished 18 points on 6-of-14 shooting, 2-of-7 from downtown, with 4 assists, 2 rebounds, and a +6 plus/minus. Per usual, consistency is the question with this young man, and I look forward to seeing him grow with this club.
And of course, things should get a tad easier for him once the Dubs get the greatest shooters of all-time back.
Oh yeah and the Miami Heat look hella good
Now THIS is what a dark-horse contender should look like.
Butler is an All-Star and dominant two-way force. His 21 points, 10 rebounds, 5 assists, and 4 steals made him look like a man among boys during key sequences of the game. I'm sure he was motivated to ball out against Andrew Wiggins, his former teammate on the Titantic, oops, I mean Minnesota Timberwolves.
The Heat also have a dynamic Draymond Green-esque big in Bam Adebayo, who tallied a line of 13-11-7. The scariest part of this team is their depth: Kelly Olynk, Jae Crowder, and Goran Dragic combined for 48 bench points. Combine with with Iguodala and you have a four man lineup that could easily start for several franchises.
They are relentless and molded after Pat Riley/Erik Spoelstra's defense-first Heat teams that have made five Finals trips since 2006. If I were a betting man, I might be inclined to wager on the Heat stealing the East.
Can Iguodala make it six straight Finals trips?