Discover more from Dub Nation HQ
High Quality coverage of the Golden State Warriors with the best commenting community in the world.
Over 3,000 subscribers
"If I'm the Warriors, I would rather have Embiid than Giannis." Would you?
Insight into Warriors organizational thinking, or just wondering aloud? Either way, Golden State is (of course) interested in adding another star.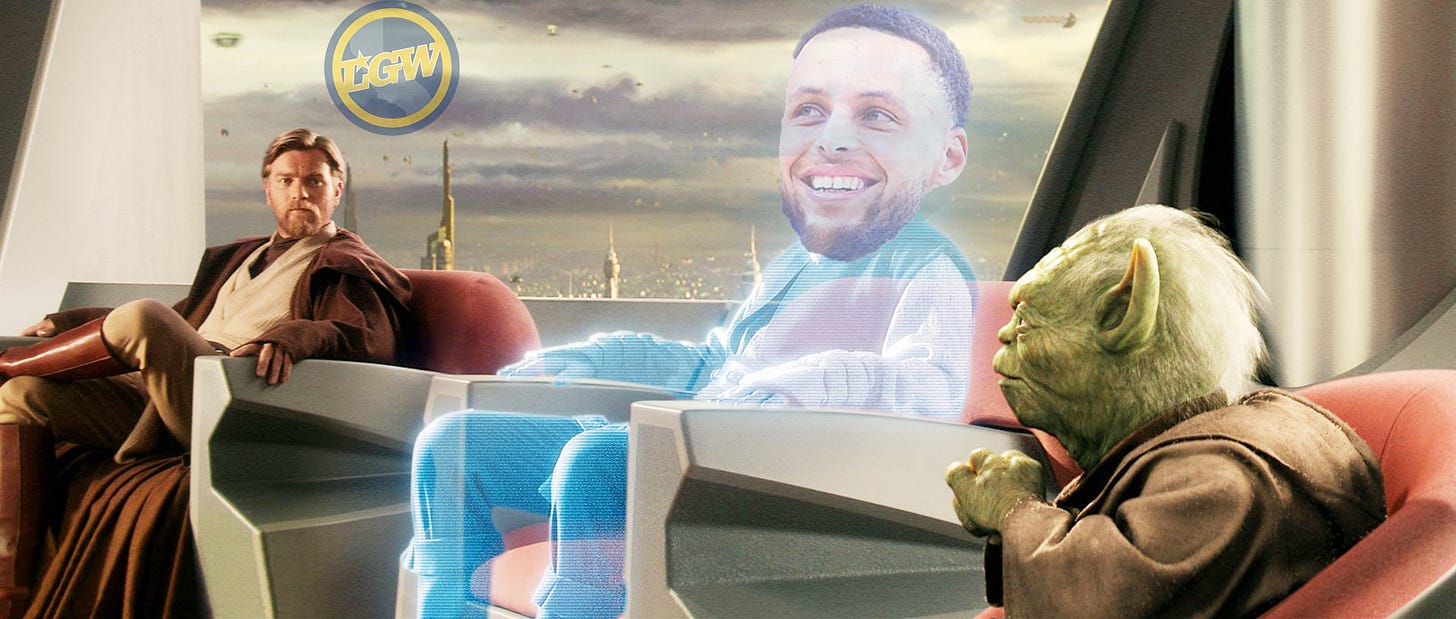 When I saw the following quote from Warriors insider Greg Papa, it made me cock my head like my dog does when it hears one of those secret high-pitched whistles. Is this a personal opinion from Papa, or are the heads of Golden State beginning to lay ground work for a new public relations push?
The argument for Joel Embiid over Giannis Antetokounmpo is one largely based on position. While both are elite, the argument here seems to be that Embiid's size (legitimate 7 feet tall and a solid 250 pounds), and talent would make the three-time NBA All-Star, two-time All-NBA selection, and two-time All-Defensive selection an especially powerful addition alongside Steph Curry.
On paper, Antetokounmpo is the safer bet with a higher floor and less injury history - and perhaps more importantly he's better right now.
But obviously, either player would be more than welcome to the Golden Empire. For a number of correlated reasons, prying either player from their current team is going to be difficult, to say the least.
There was a ton of doubt that the Warriors could ever entice Kevin Durant. These superstars do move around, and if either Embiid or Antetokounmpo were to relocate, playing alongside the Splash Brothers in the gilded aura of Chase Center in San Francisco is as good of a place as any.
Could Golden State get this deal done though?
This is the billion dollar question.
The most obvious point here is that the Warriors would be extremely happy to add either Embiid or Antetokounmpo. When talking about this quote with Mrs. Dubs last night, her first response was "can they do that? What could they get for Draymond?"
With the 2nd pick in the 2020 draft, as well as Minnesota's top-3 protected pick in 2021, Golden State is as rich in draft assets as they've ever been.
Whether the team can, or even should, trade Draymond Green (no), or Andrew Wiggins (maybe) is an extremely personal question. These difficulties don't slow down us fans and media though.
Here's a meme I made for us all: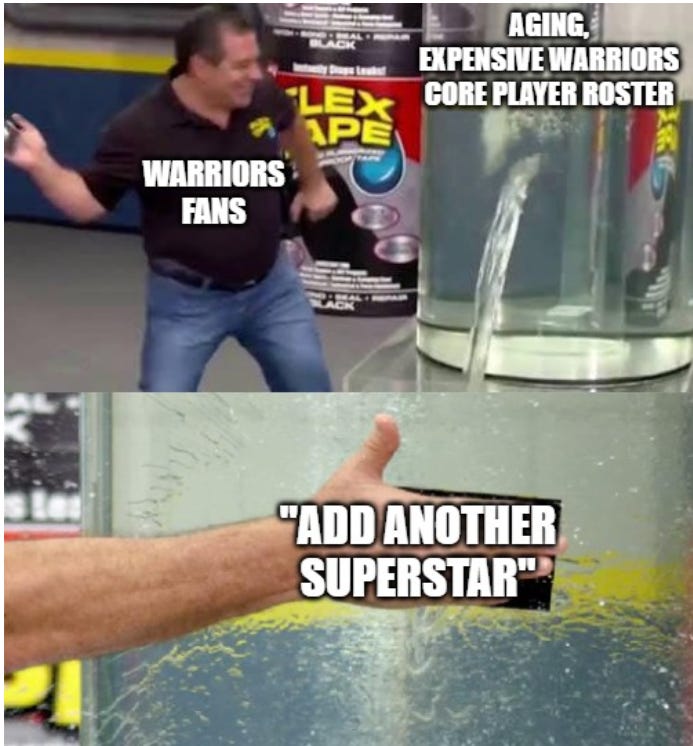 Option 1 - Draymond Green or Andrew Wiggins et. al.
In the first trade scenario, Golden State would essentially be pulling Curry and Thompson off to the side and asking "what else do you want?"
Assuming Curry and Klay Thompson are set in stone here, the big contracts that would have to be exchanged in order to make the salaries work are either Draymond Green, or Andrew Wiggins. Neither seems especially likely to be at the core of the most enticing offer the Milwaukee Bucks or Philadelphia 76ers would receive for such heralded players.
Even assuming that both of the upcoming picks are included, Green's lack of scoring punch and abrasive style of communication; and Wiggins unproven value while on such a large contract, are going to be detrimental value; even though both would make their new teams better.
Is that enough to make a trade go through? No one really knows, but my personal guess is that it falls short of being the best offer either of these teams could get on the open market.
Option 2 - Use the TPE for salary relief, plus the picks
But our good friend Patrick Murray has another idea: using the Traded Players Exception (TPE) to lift a large expiring contract like Rudy Gay or Thad Young.
The Warriors would draft as normal (here, Murray has the team taking the consensus pick in Wiseman), then use that player, Kevon Looney, and next year's Timberwolves pick, along with a bunch of salary relief:
By the time next season's trade deadline rolls around that means the Warriors could offer a package consisting of:

Wiseman, now signed to his rookie contract, which would pay $8,730,240 in 20/21 if the salary cap remains flat

Gay's $14.5m expiring contract

Kevon Looney who will earn $4,821,429 next season

Eric Paschall who is due to be paid $1,517,981

Minnesota's 2021 top-3 protected pick and 2021 second-round pick

The Warriors' own 2021 draft pick

That's all the assets on the table, plus one of the Warriors' best young role players in Looney who may regain his value if he stays healthy. But crucially that's $29,569,650 in matching salaries without having to include Andrew Wiggins.

And how much does Antetokounmpo make next season? $27,528,090. What about Embiid? $29,542,010. It's a perfect match for the combined salaries of the Warriors package.

The value doesn't stop there either. On top of all those assets, Gay's $14.5m is an expiring deal, and Young only has $6m guaranteed in 21/22. So the Bucks or 76ers would get valuable salary cap relief in future years too.
Now is this enough to get a deal done?
Again, I have absolutely no insider insight here, but on the surface, this looks like a more intriguing offer - especially to a team like the 76ers.
Which brings us back to "[I]f I'm the Warriors, I would rather have Embiid than Giannis."
In any chase for either player, the Warriors would likely offer up both option 1 and option 2 above. But the timing for these moves may not neatly tie to the offseason as well as the fans may want.
According to current reporting, it sounds like the 76ers are planning to proceed with their core intact. The same can likely be said for the Bucks, regardless of how their post season ends. Walking away from a superstar voluntarily does happen, but it's rare.
But what if those teams get off to a rocky start? The beauty of Option 2 that Patrick Murray presents is that it's an offer that can remain on the table. An aging Rudy Gay on an expiring contract doesn't enter the Warriors' long-term calculus.
So the Warriors can work towards winning now, while also keeping an offer on the table should something change. Enter the 76ers and the bloated contracts of Al Horford (four years and $109m), and Harris' five-year $180m deal. If things go sideways in Philly, the Warriors trade option suddenly looks a lot more enticing.
Golden State is reportedly leaning towards using their upcoming draft pick, though take this with plenty of grains of salt as the team is vocally open to deals. Never a team to rest on laurels, the Warriors front office will be tirelessly working, so let's not get mad if this ride doesn't stop with Giannis on the team.