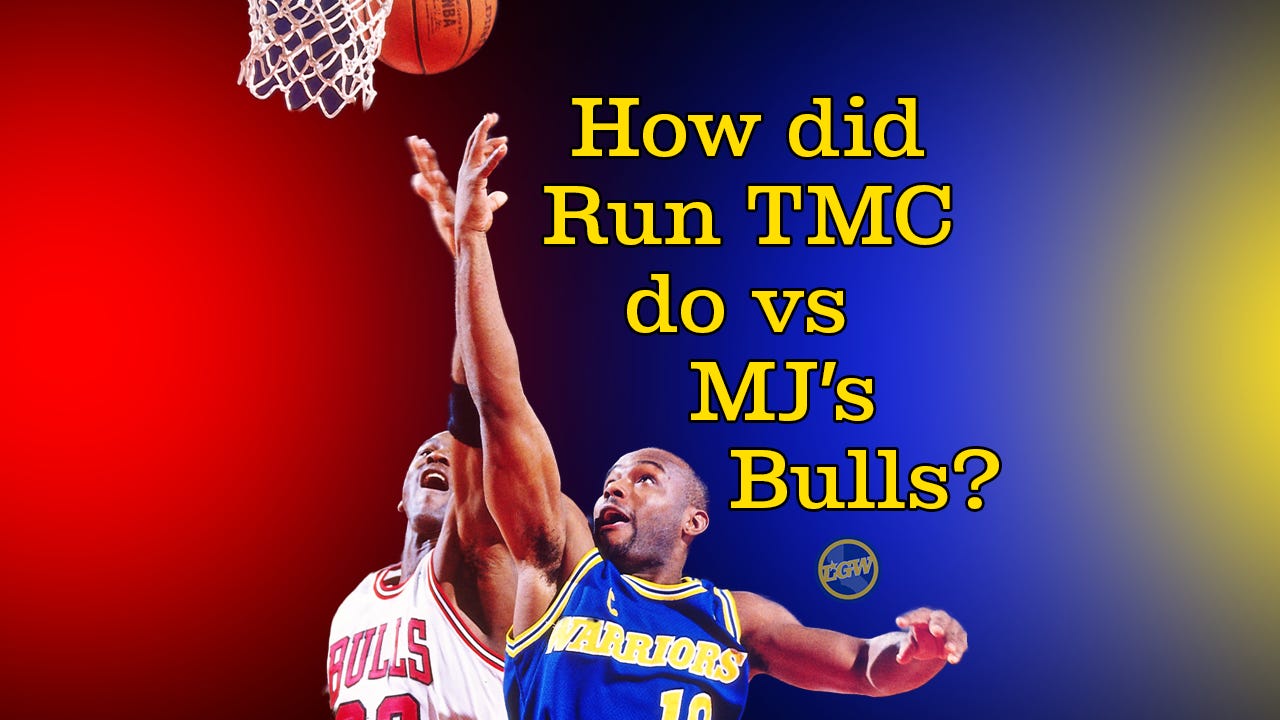 ESPN is releasing episodes 5 and 6 today of the gripping 10-part docuseries "The Last Dance" chronicling Michael Jordan's Chicago Bulls dynasty of the 90's.
Last Sunday, we followed along as the 1990-1991 Bulls toppled the Pistons and Lakers dominions to win their first championship. The highlights were thrilling as Jordan, Scottie Pippen, and Horace Grant led a powerful squad through a murderer's row of Hall-of-Famers like Isiah Thomas and Magic Johnson.
I was a pre-schooler when the Bulls won that first title; this documentary has been providing me with concrete images to match the myths I've absorbed as a NBA fan. So I gleefully watched as former GSW'er Rod Higgins testified to Jordan's greatness; I wondered what it must have been like to watch those high-scoring Run TMC Warriors face off against Chicago's burgeoning empire.
Run TMC was electrifying and had something those late-80's Bulls didn't: three dynamic scorers who could overwhelm an opponent on any given night. For all the talk in the documentary about how MJ was criticized for going it alone, Run TMC would seem to provide that concrete contrast in team structure. 
And yet … that contrast sort of exemplifies just how dominant MJ was at the time. To quote Duby Dub Dubs from the LGW Slack chat, "MJ was like the entire Lakers franchise rolled into one person. He was such a damn force".
How good was Run TMC?
For a quick refresher on the Tim Hardaway, Mitch Richmond, and Chris Mullin era Warriors, let's flashback to when our very own Nate P. discussed them for SB Nation:
For the uninitiated, you really have to go back 30 years to when Don Nelson announced that he was going to coach the Warriors beginning with the 1988-89 season. Nelson drafted Mitch Richmond, who'd win Rookie of the Year, and Tim Hardaway in the first round of the '88 and '89 draft.

They'd join Chris Mullin, who was already an established shooter, on the Golden State roster. The three combined to form Run TMC, a trio that ran fast to the rim, scored a boat load of points, and kept opposing teams on their toes by rarely ever calling plays. They also might have talked a little trash along the way.
Hardaway was the nasty point guard who turned arenas into ankle boneyards with his Killer Crossover. Richmond was a slick scorer who Jordan once referred to as the "hardest shooting guard to defend". And we can't forget Chris Mullin, an unstoppable assassin and member of the 1992 Dream Team alongside Jordan, Pippen, and Johnson.
'91 Run TMC was the highest scoring trio in the NBA, averaging 72.5 PPG. All three members made the top eleven in scoring that season.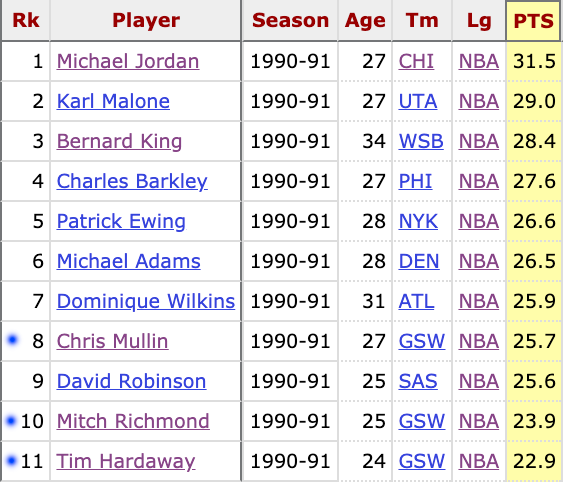 That squad also featured the aforementioned Higgins, Sarunas Marciulionis, Tom "Mr. T" Tolbert, and Mario Elie. They won 44 games and were the second highest scoring team in the league, averaging 116.6 PPG. They even put a scare in the '91 Lakers in an epic playoff battle only a few weeks prior to L.A.'s NBA Finals showdown with Chicago.
Although they were only together for two seasons before Richmond was traded for Billy Owens, the Run TMC Warriors were no joke.
But were they really a problem for those dangerous young Bulls?
Run TMC Year 1 vs Jordan's Bulls
11-25-1989 / Bulls 104 - Warriors 91
Jordan barely missed a triple-double with 29p/14r/9a, but he led a balanced Bulls effort that included four starters scoring at least 18 points.

Richmond led the Warriors with 23 points while Mullin added 21.

If you weren't sure how much of a terror young MJ was, watch these highlights from that game where he's attacking the rim like it owes him money.
1-18-1990 / Bulls 132 - Warriors 107
Jordan went berserk, dominating GSW with 44p/12r/8a. He was a devastating 17-of-30 from the field.

MJ drilled 7-of-12 from three-point range that night. And this was back when people said the weakest part of his game was his outside shot! (He had shot 27% from beyond the arc in the previous season, bumping it up to a then career high 37% in '90).

Jordan did not play in the 4th quarter.

Hardaway dished out 14 assists and snagged 7 rebounds but the Warriors were smothered into 42% shooting by the Bulls stingy defense.

Marciulionis scored 27 points in a reserve role for GSW while his teammate 7-foot-7 center Manute Bol blocked six shots.

If you want to watch the massacre via grainy VHS footage, here ya go:
Run TMC Year 2 vs Jordan's Bulls
11-15-1990 / Warriors 103 - Bulls 93
'90-'91 was Run TMC's peak, and they protected the Oakland Coliseum with a stirring early season victory over a dominant Chicago team that was headed to a title.

Mullin led the squad with 30p/6r/5a, with Hardaway adding 23p/9r/5a, and Richmond adding 16 points with 8 boards. Marciulionis scored 14 off the bench.

Jordan was held to a pedestrian (for him) 14/p/8r/6a and only shot the ball 12 times. Horace Grant led Chicago with 18 points, while Pippen added 12p/9r/7a.
12-27-1990 / Bulls 128 - Warriors 113
The Warriors Big 3 combined for 54 points, led by Hardaway's 29, but it still wasn't enough to stop the rampaging Bulls in Chicago.

Chicago dished out 37 assists en route to shooting a cruelly efficient 61% from the field (only 3-of-6 from beyond the arc).

Jordan dominated again with 42p/14r/7a and three steals. He shot 17-of-25 from the field.

Pippen went off too, tallying 34p/8r/10a on 15-of-21 shooting.

Higgins came off the bench for GSW to score 21 points and grab 9 rebounds in the futile effort.
Wellp, there you have it. The Bulls dominated Run TMC 3-1 with MJ averaging 32 PPG over the four games. Watching him go over, around, and through every Warrior in his path was electric.
Golden State's talented trio couldn't provide enough firepower/defense to consistently win those matchups, but that's not much of a knock. Nobody was stopping the Bulls once they hit their dynastic stride.