Heat vs Bucks tips off and here's who Dub Nation should root for
Also, the Rockets and Thunder ramp up the pressure in Game 6 later today.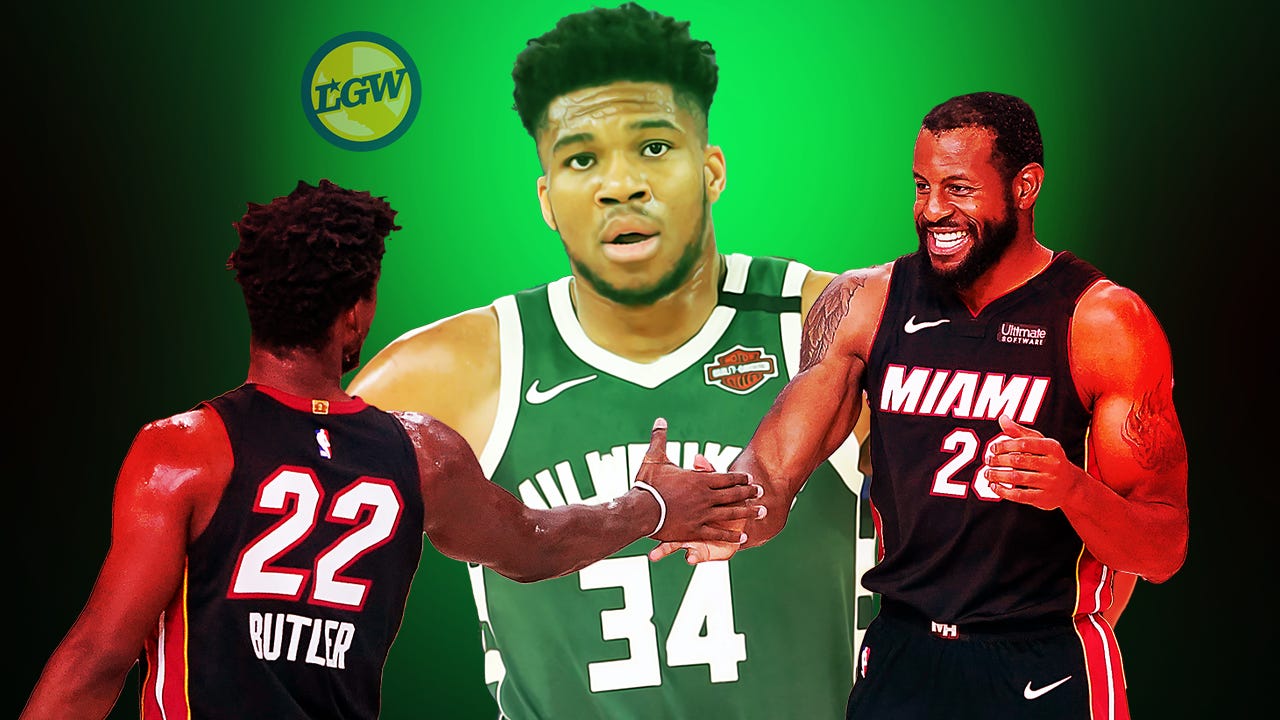 With the Golden State Warriors in cryofreeze and the #1 seeded Milwaukee Bucks taking center stage in the NBA's "Black Lives Matter" mission, it'd be easy for many members of Dub Nation to shift their casual rooting interest to Milwaukee. With their series starting off at 3:30 PM PT on TNT against our old friend, Andre Iguodala, they'll be facing much stiffer competition than whatever the Orlando Magic were able to provide.
Duby Dub Dubs and I humbly present to you three reasons those fans should pause and reconsider what they're getting into as the Bucks meet the Heat in the second round. 
The Heat gave Milwaukee some problems during the regular season, with and WITHOUT Jimmy Butler
Daniel: The Bucks were the NBA's most dominant team during the regular season and yet the Heat won the season series 2-1. Milwaukee avoided the sweep by clawing back from a 20-point deficit to win against the Jimmy Butler-less Heat in their most recent contest.
Butler, Miami's best player and leading scorer, missed both the first and final game, but the Heat overwhelmed Milwaukee in the one game he did play. Antetokounmpo was limited to 13 points on a bricky 6-of-18 shooting from the field as the Bucks scored their then season low in a 105-89 loss in Miami.
The Bucks have been intimidating in part because of Antetokounmpo's downhill physicality, as the reigning MVP can bully his way through most players in the NBA. But the Heat have an imposing wall of defense with cagy wings like Butler and Andre Iguodala swarming like fighter jets, anchored by Defensive Player of the Year candidate Bam Adebayo. Adebayo is a muscular center who moves his feet well; he'll be eager to keep "The Greek Freak" from getting anything easy around the rim.
Michael Kaskey-Blomain of CBS Sports had lofty praise for Adebayo ahead of this daunting matchup:
"One of the few players across the league's landscape that has the combined size and athleticism to consistently bother Antetokounmpo. In fact, Adebayo was the league's most effective defender during the regular season when it came to guarding Giannis, based on his true shooting percentage."
Milwaukee was ranked 15th in opponent's 3FG%, and Miami is the second most accurate long-range shooting team in the NBA (37.9% from beyond the arc). If Miami can slow down arguably the most dominant player in basketball while returning a three-point barrage, I smell an upset.
Couper Moorehead of NBA.com had an excellent preview of this series titled "The Case for The HEAT" with a major takeaway that goes makes me feel pretty good about my hunch:
You can throw out bits and pieces of all three Heat-Bucks matchups this season – key players missing games, back-to-backs, etc. – but each remain variations on a theme. When Miami had success, they shot well and Milwaukee didn't.

-Game 1: Miami comes back to win in overtime hitting 10-of-23 from deep after halftime while the Bucks shoot 3-of-20 over the same period.

-Game 2: A close game turns into a late blowout with Miami shooting 48.6 percent on threes and Milwaukee hitting 20.5 percent.

-Game 3: A double-digit HEAT lead at halftime comes by way of 13-of-24 first-half shooting from three.
And if my hunch is correct… hey Duby Dub Dubs, I have a question for ya…
If the Bucks lose, does their MVP join the Golden Empire?
Duby Dub Dubs: With the Warriors gathering pieces for their much anticipated retooling, Milwaukee's Giannis Antetokounmpo's looming free agency makes him the target of much fantasy rosterbating. While it's extremely unlikely, that doesn't stop the world of celebrity crushes in real life, or the wistful trade dreams of basketball fans. 
Why would the Bucks trade Antetokounmpo? Well, they wouldn't. Not voluntarily anyways. And that's where this gets a little interesting. Fans of the Golden State Warriors are quite familiar with the rumor mill after watching the media sharks circle Kevin Durant's tenure with the team. Baseless speculation, or "where there's smoke there's fire?"
It's a silly game, because no one knows. Will Antetokounmpo really get fed up and leave? Does the 24 year old superstar already see an end to his time in small market Milwaukee?
Now, on the surface, there's no way this happens right? 
Superstars do leave their original teams, in fact, out of the entire upper echelon of NBA stars at the very top, only one (Stephen Curry) is still with his original team… well, Curry plus Antetokounmpo - for now. 
The Warriors make a ton of sense for Antetokounmpo. While a player as good as he is will improve any team he joins, working alongside Steph Curry offers the added incentive of making the game easier for the young star, who has never played with a player anywhere near as good. 
There's also one more great reason to root against the favored Bucks this series….
Andre Iguodala has earned your loyalty
Daniel: You really want the first Finals MVP of the Splash Bros era to LOSE in his first season away from the Bay? You sicken me. Remember: he didn't want to leave the Warriors, but was a salary cap casualty of the Kevin Durant exodus.
ALSO, never forget how the young and ignorant Memphis Grizzlies dissed Iguodala when he was signed to them and waiting for a contender to liberate him from that irrelevant squad.
Iguodala, even though you now wear the colors of the red and black (and pink and teal?), rise yet again and show the world the power of GROUP ECONOMICS!!!
Duby: Wait… are we really calling how the Memphis Grizzlies interacted with Iguodala a "diss?" After all, if was Iguodala who held himself out of action. As much as I respect the power move (remember that he squeezed an additional high-priced year out of the Heat when he joined), I can't really see any angle that doesn't include the Finals MVP doing the Grizz dirty. 
That said, Iguodala is a Warriors for life. No matter where he goes or what he does, I'll be rooting for him. On paper, I don't see the Heat as much of a threat to the powerhouse Bucks team, but if there's a wing tandem to worry about in the playoffs, Iguodala and Jimmy Butler is one of the most fearsome duos in high stakes games. 
All season the Bucks have been smashing their opponents, but as anyone can tell you, regular season records don't matter in the playoffs.