Has Damian Lillard reached Steph Curry's level of dominance?
Lillard's having a monster season. Is it time to mention Dame alongside Unanimous in the conversation for best point guard alive?
(Duby Dub Dubs and I combined our powers to discuss this fun topic!)
Three games after missing crucial free throws and igniting the Clippers-Blazers feud that we didn't know we needed, Damian Lamonte Ollie Lillard Sr. is ripping down the ceiling of Disney's Orlando bubble.
The 6'2" guard has poured in 154 points over his last three contests and improbably, the Portland Trail Blazers have fought their way to the edge of the playoffs after a rocky, injury-plagued season. 
The Oakland born All-Star's brazen shot selection and eye-popping scoring have caught national attention, even drawing comparisons to the sidelined legend Stephen Curry.
Lillard has given the Bay Area someone to cheer for during the Golden State Warriors' hibernation. But have his bubble heroics actually elevated him to the status of Curry, the greatest point guard of the modern era?
With Curry out of sight, Lillard is playing out of his mind
With so many critical top tier players missing, and most teams playing with some sort of modified roster due to Covid, it's all too easy to fall into an abrupt rethinking of the NBA player rankings.
Just a little over a year ago, Curry shattered the record for most points scored over a 4-game sweep when he activated the death brooms on Lillard's Blazers.
But since then Curry has barely played in an injury-marred 2020 campaign. Meanwhile, the red-hot Lillard has been the star of the NBA's Orlando restart, averaging nearly 38 points and 10 assists per game while leading Portland to a 6–2 record during in the quarantine bubble.
He's also launching bombs in crunchtime from distances we're typically used to seeing Curry shoot from.
There's even an argument circulating on social media that Lillard actually has deeper range than Curry. Per Reddit user u/irelli: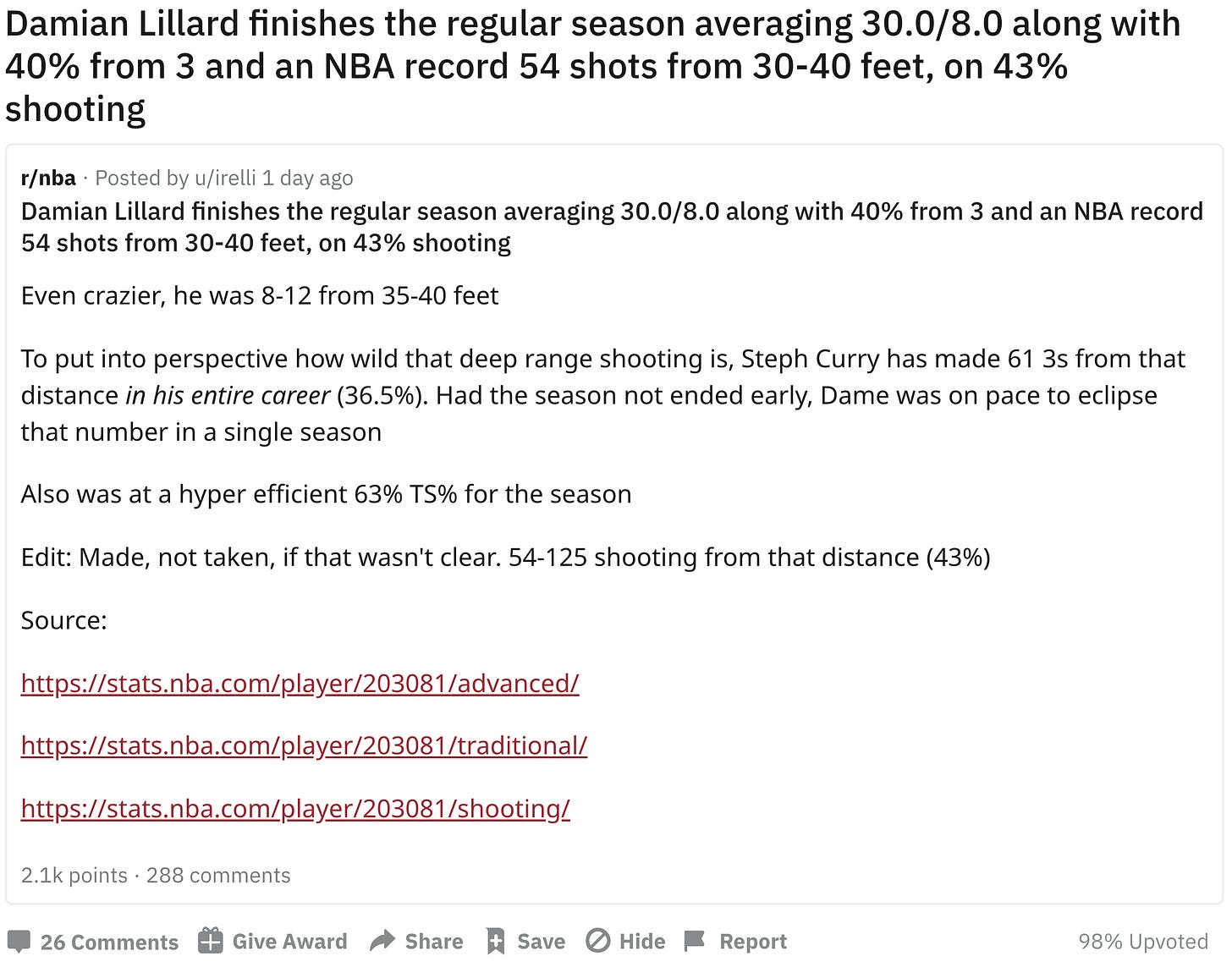 We may not know the true answer of who holds more range until the NBA adds the half-court shooting competition to All-Star weekend, but you don't need to squint too hard to see that there are some very real parallels between these two players.
Lillard certainly passes the eye test and is tearing up the bubble, but let's take a deeper look at the numbers.
The trouble with comparing Dame and Steph
When juxtaposing anyone's work to Curry's devastating exploits, we're talking rarified air. Few, if any will ever reach Curry's 2015-16 season - when he averaged 30 points, 6.7 assists, 5.4 rebounds, 2.1 steals, while shooting 45% from deep and leading his team to an NBA-record 73 games, becoming the first ever unanimous MVP in NBA history.
But it's his consistent efficiency that is truly awe-inspiring. While folks are going gaga over Lillard's brilliant shooting this season, his numbers don't crack Curry's top four seasons from beyond the arc.
Watching Lillard destroy souls to get his team into the NBA's play-in game is hella entertaining, but Curry is the greatest shooter of all time in both volume and efficiency! Also, Curry can boast multiple championship rings and MVP trophies. Lillard cannot.
That's not a knock on "Dame"; that's the reality of the times. Curry's shooting created the modern era of basketball, and Lillard is one of his many rivals.
So while Lillard hasn't reached Curry's heights, that doesn't diminish Lillard's impact on the game in any way. The Bay will absolutely root for him to make quick work of Ja Morant's Grizzlies over the weekend, and if there's any 8th seed that can put a scare in the Los Angeles Lakers, it's Lillard's Blazers.
Let's just not besmirch Curry while we're putting respect on Lillard's name.