Discover more from Dub Nation HQ
High Quality coverage of the Golden State Warriors with the best commenting community in the world.
Over 3,000 subscribers
Eric Paschall makes the NBA All Rookie team, while Warriors front office brings in some vets
Big award for one of the bright spots from last season oddly coincides with the return of some Warrior heroes of yore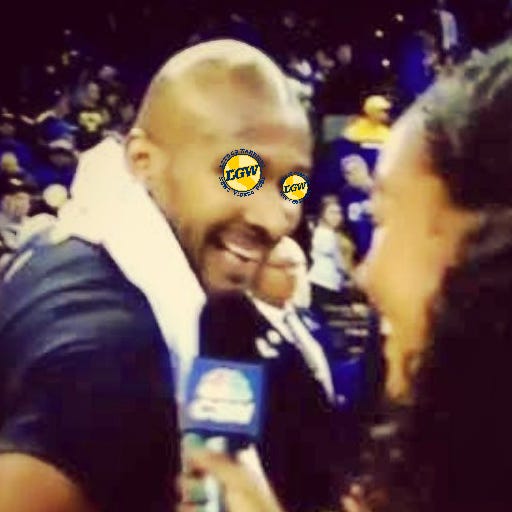 The NBA is in a weird spot in regards to next season. Recent reports indicate that the 2020-21 season "won't begin before Christmas Day," and they are proposing a mid-November draft date - so there's a whole lot up in the air with professional basketball's next season.
But that doesn't mean that the league's machinations have ground to a halt, as evidenced by a couple of significant happenings around Warriors HQ.
Eric Paschall - All Rookie team
The 2019-2020 season was not kind to the Golden State Warriors, but one of the lone bright spots in an otherwise lost season was the standout performance of Eric Paschall. On a team as bad as the Warriors were last year, there is ironically a ton of opportunity for someone to stand out from the crowd.
Enter Eric Paschall. Selected in the second round with the 41st overall pick, he is exactly the sort of "tweener" player that has benefited from a newfound resurgence of versatility over size. Averaging 14 points, 4.6 rebounds and 1.3 assists per game in just under 28 minutes per game, he emerged as one of Golden State's most reliable offensive options.
In a closely contested vote, Paschall just eeked out the nod over Miami's Tyler Herro to earn a spot on the All NBA Rookie first team:
It's a high honor for a second round pick, and one that may finally count as a win for the Warriors drafting history. Though they've been dredging the bottom of the lake for so long, it's been all too easy to judge the franchise for not adding more talent via the draft. I don't know what the exact odds of 2nd round picks sticking as a rotation player in the NBA are, but it feels like just hitting on one of these gambles would go a long way.
I'll take all the Evans and Bells and Kuzmics in the world if it means we get one player of Pachall's potential every few years. Reportedly, Paschall has been focusing on extending his range out to the three-point line, and working on team defensive concepts.
When we see them next, the Warriors could look a lot different. The team is admittedly chasing another big name to add to the core of Stephen Curry, Klay Thompson, and Draymond Green; even while doing their best to evaluate players to target with the second overall pick in the upcoming draft (whenever that may be). Among their fungible assets, Paschall is probably the most likely to be tossed into any potential deal as a sweetener. Just 24 years old, and coming off such a promising rookie campaign, he's coveted.
An excellent inside player with the ability to hit midrange shots and make useful passes to teammates, Pachall is forecast to be a major rotation player moving forward and this award is an auspicious beginning to his career.
Now he's just got to work on developing as a player, which brings up a nice segue to our next subject…
Barbosa, Livingston return to the fold of the Golden Empire they helped build
The Golden State Warriors didn't always have the gravitas that the franchise currently engenders. Long time fans of the team are more than happy to pull up a dusty rocking chair and spin long, harrowing tales about the miasma of unfortunate draft choices, and free agency disasters.
But something has happened here in the last decade or so, there was a change in culture. And sure, much of this is due to just having really good players - you don't necessarily need to make moves that are light years ahead of the competitors if you just so happen to have the greatest basketball talent of his generation redefining what works and doesn't work on the court.
So it is a great pleasure to witness the return of some of the architects of this franchise-wide reclamation project. In one single day, the Warriors announced the return of Leandro Barbosa and Shaun Livingston to the coaching staff and front office, respectively.
The two players, though onboarding at the same time, will take on decidedly different roles.
Barbosa figures to be more of a visible presence, sitting on the bench during games, and actively working with players on the court. From Anthony Slater of the Athletic, here's coach Steve Kerr describing some of what we can expect:
Well, he's going to be on the court working with players. Hands on...he'll be on the court and I imagine he'll probably play a lot of 3-on-3 and 5-on-5, because as always, once the season start, whenever that is, you have nine guys playing the majority of minutes, meaning you have six guys who need extra work. Then you have the rehabbing guys.

So you need bodies, young, healthy legs and LB… [will]… be a valuable guy to have at our disposal in terms of scrimmages and the mentoring aspect. We have so many young guys.
Livingston on the other hand, will be considered much more of a "front office guy" with responsibilities leading him towards a future GM role, according to his preference. But Livingston, like Barbosa, is simply too rich of a resource to completely wall off from the young players.
With so much roster turnover in a single season, Golden State was bereft of much of the institutional inertia that is so important to maintaining that vaunted Warriors culture.
As described by Marcus Thompson in this excellent article, Livingston was heavily lobbied by the organization to consider a coaching role, but eagerly embraced by GM Bob Myers once it became clear that Livingston's preference was somewhat higher up to chain of command. There's a certain mindfulness to this choice, as the hiring of Steve Nash in Brooklyn recently brought back to light, the upper echelons of the NBA do not reflect the player population. Again, from the Thompson article:
Walking through it wasn't the easiest thing, even if it aligned with his vision and plan. But he finally did it Monday, signing a contract to join the Warriors basketball operations team. But why?

Because the best way to affect change is from the top.

Because NBA front offices have a serious void, in melanin and mindset, and who better to fill it than him.

Livingston — whose title is director, players affairs and engagement — will be the highest-ranking Black person in the Warriors' front office since Mitch Richmond in 2008
These may not be the sort of on court maneuvers that most fans were hoping to see in this offseason, but the Warriors organization understands that foundational support is just as critical as the on court product. With Livingston and Barbosa returning to the fold, the Warriors are signaling that they are not just going to let the dynasty era slide into the forgotten past. It's a smart move. Lightyears, even.