Dubs rookies show growth and Wiggins pulls off rare feat in loss to Wizards
I know it's early, but it might be time to go all in on Jordan Poole stock.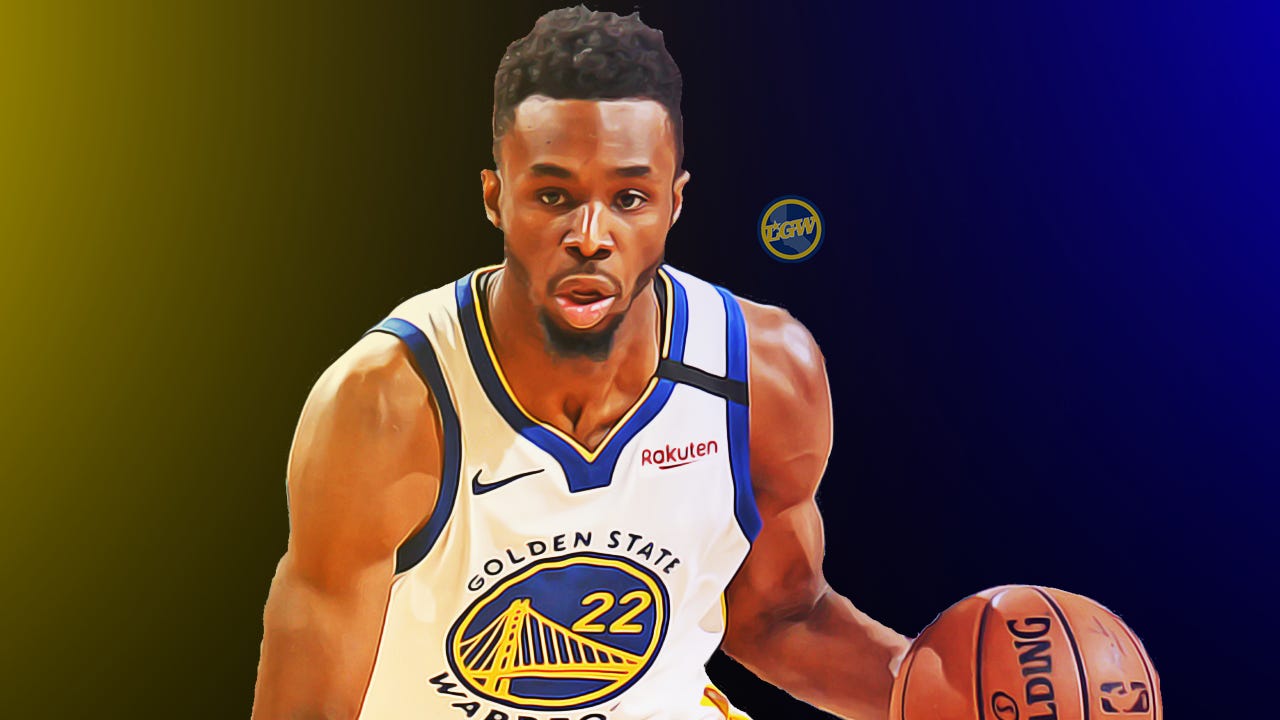 I regret to inform you that the Golden State Warriors failed in their bid to become the most injured team to ever win both games of a back-to-back (I did not research this), as they fell to the Washington Wizards, 124-110.
If you're a Golden State fan still watching this team, you serve not only as a supporter but also as a freelance talent scout. This season is meaningless in terms of adding a 2020 title, yet it means everything in the hunt for future banners.
Last night we saw a rag tag 8-man rotation put in their applications for future consideration as the Warriors' front office reloads the dynasty.
Let's get into it!
Wizards ended the game with one huge run
Bradley Beal and Davis Bertans went full Streets of Rage-mode in San Francisco, battering the Dubs with a combined 63 points and a blistering hot 15-of-19 shooting from beyond the arc.
But this game actually looked pretty close in the first half. The score was tied at 55-all with two minutes to go before halftime. From there until the end of the third quarter, the visitors outscored the Dubs 39-23.
During this 14 minute stretch the Warriors struggled to find proper spacing, missing all five of their attempts from three-point range until a buzzer beater from Jordan Poole ended the third. Check out the ghastly shot chart from that run.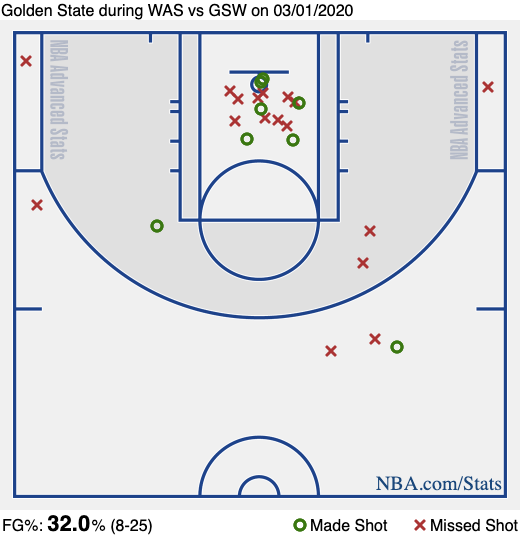 Meanwhile Washington kept landing painful body blows. Four different Wizards knocked down at least one triple during the stretch, combining to go 5-of-9 from beyond the arc.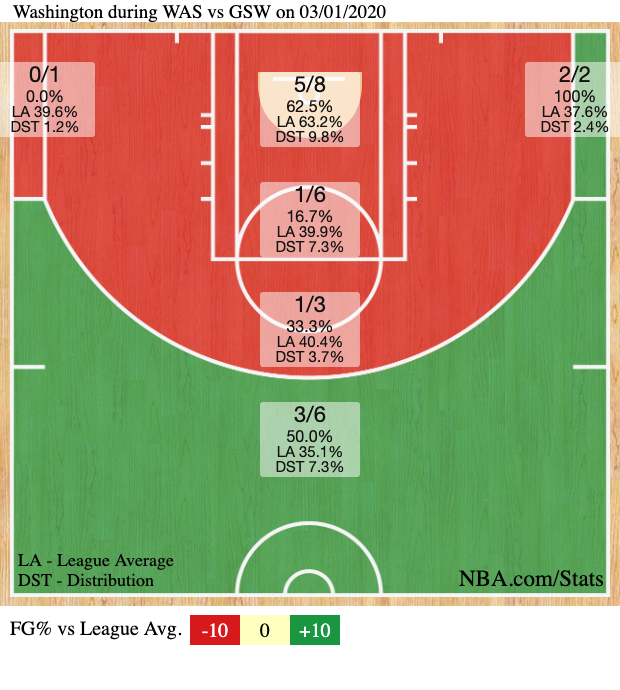 That +15 differential in 3PT scoring buried the Warriors for good. This is what it looks like when you're running an 8-man rotation on the second night of a back-to-back.
The Dubs only had three available bench players, all of them rookies!
That thin of a bench is usually a recipe for disaster in the NBA, but these young Warriors made Dub Nation proud with gutsy, efficient efforts.
Jordan Poole: 17 points, 7 assists, 3 rebounds, 4 turnovers, 5-of-9 shooting from the field.
For everyone who was turned off by Poole's bad shooting over the first four months of his career during this lost season, look out! The youngster is getting a better feel for the game on a nightly basis (as we would hope for with any rookie).
Last night in 28 minutes as reserve, Poole had his first game shooting over 50% from the field while getting to the line at least 7 times. He also made 2-of-3 from deep, an encouraging sight for a young man who was touted as a shooter coming out of Michigan but has struggled to find the range as a pro.
His aggressive dribble and quick feet are getting him by defenders and into playmaking positions. He led the home team in assists and had one nasty li'l move on Davis Bertans.
Eric Paschall: 17 points, 7 rebounds, 6 assists, 7-of-14 shooting from the field.
Ummm we coulda used this dude last year in the NBA Finals. His understanding of cutting/driving angles to the basket is expanding rapidly, and he has a relentless arrogance  when it comes to finishing around the basket. He's there to dominate, and if you get in his way, he's doing his damndest to finish through you and scream on you.
One action I really like is Paschall making decisive moves with the ball at the top of the circle. Defenses are growing increasingly wary of his respectable mid-range jumper, and he's capable of cooking them with a remarkably effective first step. At one point the Wizards swarmed Paschall on the catch in that area, and he quickly found a cutting Poole for a wide-open layup.
Anytime you have four defenders within arm's length around you at the free throw line, you're showing some hefty gravity.
Mychal Mulder: 17 points, 6-of-10 shooting from the field, 3-of-7 from 3PT
Before the game I felt a brief pang of nostalgia seeing  "M. Mulder" in the lineup. Shout out to Mark Mulder on those early 2000's Oakland Athletics! We shoulda won all those playoff series man, smh.
But Mychal Mulder was a part of that rookie three-man bench mob last night and put in some work. The Kentucky product led the team in made threes and was the only Dub with a positive plus/minus if you're into that (+5).
Wiggins pulled off a rare (random) feat
Over the last 10 years, there have been 18 different occurrences where a Warrior attempted at least 11 free throws and blocked at least 2 shots in the same game. Before your eyes lazily scan over the list, ask yourself: who do you feel is more likely to be named, Stephen Curry or Harrison Barnes?
Kevin Durant - 12

Andre Iguodala - 1

Draymond Green - 1

DeMarcus Cousins - 1

Anthony Randolph - 1

Stephen Curry (!) - 1
Andrew Wiggins added his name to this fun fact list against Washington on a night he scored 27 points on 9-of-19 shooting (8-for-11 from free throws) with 6 rebounds, 2 assists, 2 steals, and 2 blocks.
Charles Barkley loves to say anybody can put up stats on a bad team, and the Warriors' record certainly indicates they're pretty awful this season. So, while I don't want to overreact to pretty box scores in blowout losses, I'm encouraged by Wiggins output and very curious as to how it'll translate once he is joined by the greatest point guard of this generation.