Draymond Green goes in deep on Kevin Durant and the Warriors dynasty, and it's riveting
In an appearance on the "All The Smoke" podcast, Golden State's mercurial star offers an extended insiders perspective on Durant's departure, among other topics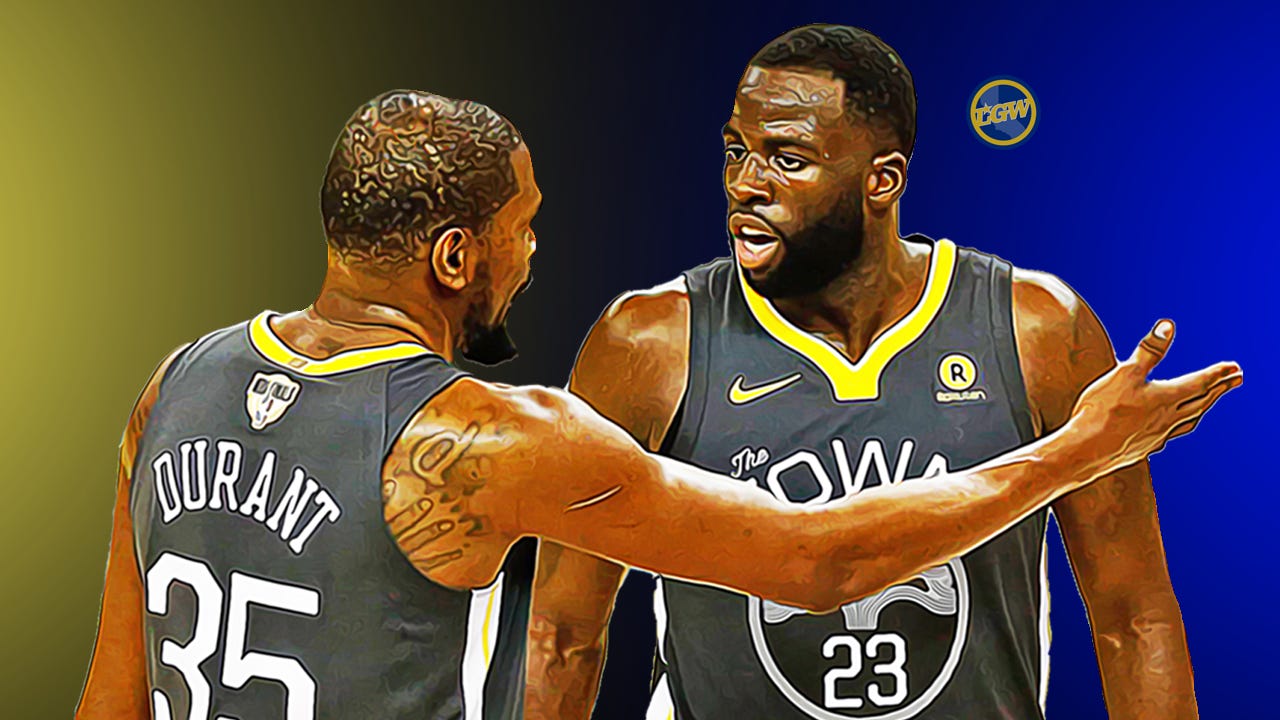 Did you know that the first show the band Green Day ever played was as an opener for equally famous bay area punk legend Operation Ivy in what was to be their last public performance? The reason I know it is because there's a fascination with the minutiae behind breakups. Like Op Ivy, the Golden State Warriors dynasty with Kevin Durant was over too quickly - leaving everyone wondering what went on behind the scenes, and hungry for more information.
So when Draymond Green sits down with Matt Barnes and Stephen Jackson on the "All The Smoke" podcast to talk about his side of Durant's departure, it's going to be riveting.
Clocking in at just a hair over two hours long, this is by far the deepest dive we've ever gotten from Draymond Green on his direct perspective regarding the overall dynasty run. With a lot of credit to host Matt Barnes, who does an excellent job of asking leading questions in just the right way, Green talks at length about Durant's time with the Warriors. And for the first time that I've seen, Green offers his opinion on the conflict during the game against the Los Angeles Clippers, and all the other elements and reactions that went into Durant's arrival and departure.
Seriously, this is a near mandatory watch/listen for fans.
For those most interested in the specific discussion of Durant's arrival and departure, start the video around the 1:18 mark.
When asked by Barnes to start at the beginning of the story, Green reverts to the offseason in 2015. When talking with agent BJ Armstrong, he's shown the math on potentially signing Durant and forgoes millions of dollars. Being told that his max was around $96 million, and that he could still make $85 million while allowing the team to sign Durant and his max contract. So Green wrote down $82 million on a piece of paper and eventually signed.
It's telling that Green picks that point as the story of how Durant came to leave the Warriors.
We won't revisit the entire sequence of events, but one interesting question has always been "when did Kevin Durant decide that he wasn't coming back?" This quote in particular shows that Green understands that the answer may be more complicated than just an interpersonal disagreement.
Here's the full quote (paraphrased for brevity, and edited to remove Green's frequent potty mouth):
"It wasn't the same after that. But it wasn't the same before that, and it hadn't been the same for about a year…it's easy to point the finger and say 'Draymond did this' or 'it wasn't the same since he did that'…but Kevin ain't changed as a basketball player, me and him just didn't have the same closeness off the floor…

Listen, I've done a lot for this organization… but one thing I know…this is Kevin effin' Durant we're talking about. If this was such a big deal about Kevin being here or me being here. Guess what? Bob would have called me and asked me where I wanted to go."
So the narrative that Durant left because of his conflict with Draymond wasn't necessarily untrue, but neither was it the sole reason Durant left.
Without getting on a soap box or anything, the treatment of Durant's departure from Golden State has suffered from a gross oversimplification. If I open the fridge for a drink and do something as simple as pick a soda instead of a beer, there are probably a bunch of reasons behind that choice.
Similarly, the departure of Kevin Durant was never Draymond Green's fault.
Because here's the thing: if you get mad at a teammate for making a play you disagree with, you don't get 'punch the chair' mad. So as Green referenced multiple times, there was clearly a lot more going on to make Durant not content here.
So please. Go ahead and spend a couple of hours with Green and a couple of member of We Believe.
But let me leave you all with a thought about what comes next.