Discover more from Dub Nation HQ
High Quality coverage of the Golden State Warriors with the best commenting community in the world.
Over 3,000 subscribers
A Warrior's dream deferred: DeMarcus Cousins' one year as a Dub
A look back at the anniversary of one of the most exciting free agent signings in Warriors history.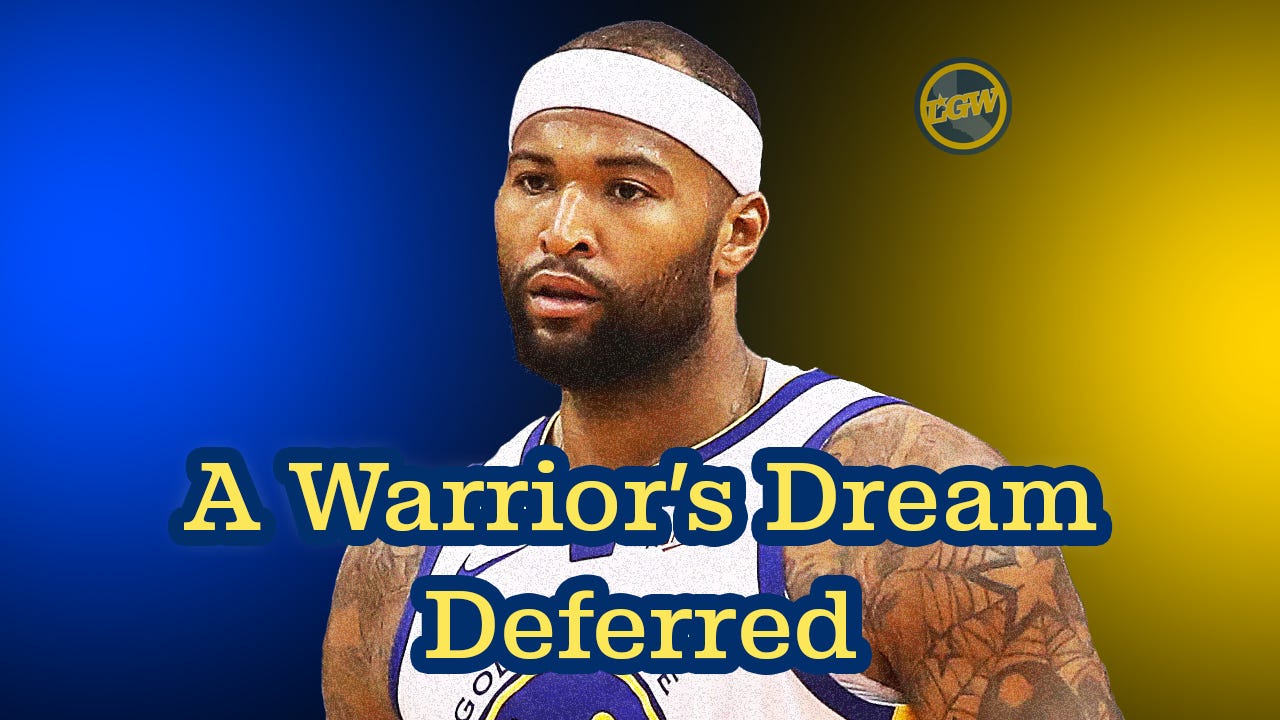 Normally July in the NBA is when teams make big free agency splashes and wild trades. This time around? Not happening thanks to the quarantine.
But it's a good time to flashback to a special July transaction that terrified the NBA and pumped up Dub Nation, as yesterday marked two years since DeMarcus Cousins shockingly signed with the Golden State Warriors.
While injuries ultimately kept "Boogie" from actualizing his full potential as a Warrior (he only played 38 combined regular season and playoff games), his arrival to the Bay was a prime example of the Warriors' penchant for luring All-Stars and patiently developing reclamation projects.
(Also it gave the Warriors the greatest NBA 2K team of all time).
Cousins' short time with the Dubs delivered several fascinating moments that are fun to look back on while we wait for basketball to return.
July 2nd, 2018 - Boogie Signs With The Champs
Remember the days when the league trembled with envious rage at the Warriors' front office brilliance and on-court dominance? The Cousins' addition was peak #RuinTheLeague. Just click on this Shams tweet and peep the thread to see how dismayed NBA fans were at the prospect of his assimilation into the Dub Dynasty.
Cousins was an All-Star, Olympian, and according to LeBron James was the best center in the league before he suffered a severe Achilles injury in 2018. His window for a big payday slammed shut, and teams weren't willing to let him rehab on their dime due to his reputation as a malcontent.
When Golden State swooped in and signed Cousins for cheap, they knew they had the championship culture and team chemistry to handle Cousin's alleged intemperate habits.
With this unanticipated move, the dynastic Warriors' dominated the offseason. Their potential starpower was off the charts with an All-Star at every position. The signing even took away some of the attention from LeBron's abandoning the burning ashes of Cleveland to go Hollywood.
October 21, 2018 - Cousins' move breaks a fans heart
Cousins would continue rehabbing for the first three months of the season, but that didn't stop fans from expressing how much they disdained his decision. During an early season loss to the fraudulent Denver Nuggets, Cousins was the recipient of some extremely animated venting from a frustrated…Cavaliers fan?
Cousins' bemused "U Mad Bro?" grin represented all of Dub Nation that night.
November 12th, 2018 - Cousins the Peacekeeper?
The infamous Draymond Green-Kevin Durant sideline blowup was too big to be deterred no matter how many Warriors' players and coaches tried to intervene, but that didn't stop Boogie from trying.
Who woulda thought Cousins would be the guy to deescalate the most contentious situation of the season?
January 18, 2019 - Boogie's Return Is A Slam Dunk
Cousins' first game as a Warrior started with an emphatic jam on the Los Angeles Clippers that sent a shockwave through the Staples Center. He punctuated his slam with feral roar and indignant scowl that let the world know he was back to dominate.
In 15 minutes of playing time, Cousins rumbled his way to 14 points and 6 rebounds before fouling out. He didn't have his wind yet, but it wasn't bad performance for a guy playing his first professional game in nearly a year following a horrific injury.
January 28, 2019 - Boogie Gets First 20 Point Game
When Cousins scored 22 points against the Indiana Pacers it was the first time in almost a decade that a Warriors' traditional center hit the 20 point mark (unless you count Marresse Speights, people generally argue about whether he's a power forward or not).
At the time it also spurred me to create my first GSW-related video to celebrate how cool it was to see a Dubs center finally able to create his own shot consistently.
March 13th, 2019 - Boogie Bodies Houston
The Houston Rockets were telling everybody who would listen that they got robbed against the Warriors in the Western Conference playoffs the season before. So Dub Nation got a tasty treat when the Durant-less Dubs went into Houston and rode a dominating performance from Cousins to a 106-104 victory.
Cousins destroyed alleged defensive stopper Clint Capela, scoring a then season high 27 points. He also added 8 rebounds, 7 assists, and 2 steals. This was the Cousins that had the league wringing their hands when he signed in July.
April 2nd, 2019 - Cousins Eats Nuggets
The Nuggets were hot on Golden State's heels for the top seed in the West as the close of the regular season, led by All-Star center Nikola Jokic. The Warriors sent a message that night, blowing Denver out by double digits behind a devastating performance from Cousins.
Boogie delivered a season high 28 points with 13 rebounds and 5 assists. He cooked Jokic with relish. And ketchup. And mustard, onions, and whatever other condiment you want. Remember when he checked out of the bloodbath and gave a sarcastic search for Jokic on the Nuggets bench?
TOO MUCH SWAG.
April 15th, 2019 - Injury Bug Strikes Again
The first sign that the Warriors postseason wasn't going to go as planned came during Game 2 of their first round series against the Clippers, when catastrophe struck Cousins.
Cousins suffered a quad injury that would knock him out for the rest of the Western playoffs.
The Warriors were able to survive the Western bracket without Cousins, but once Durant missed significant time with his own injury, Golden State was desperate for Cousins to return in the NBA Finals.
June 2nd, 2019 - Cousin's Last Stand
Down 0-1 on the road the Finals, the Warriors needed all hands on deck to steal a game from the dominant Toronto Raptors. Cousins had returned in Game 1 but played a shaky, ineffectual eight minutes.
His hobbled but gutsy Game 2 performance helped the Warriors snatch Game 2 in front of a stunned Toronto crowd.
Cousins tallied 11 points, 10 rebounds, 6 assists, and 2 blocks in 27 huge minutes. That would be his last notable performance of the season, as the injury riddled Warriors were overtaken in six games by the hungry Raptors.
---
Cousins parted ways with the Warriors in the offseason and landed with the Los Angeles Lakers. He suffered another awful injury in preseason, missed the entire year, and has opted out of the NBA's Disney Bubble Showdown.
During his limited 2018-2019 season he averaged 16.3 points, 8.2 rebounds, 3.6 assists, 1.3 steals, 1.5 blocks, on 48% shooting from the field (27% from beyond the arc). Not bad numbers for a giant recovering from one of the worst injuries in sports, and it's a shame his quad injury wiped out much of his opportunity in the playoffs.
Cousins' grit and determination showed as a Warrior, even if his body didn't always cooperate. And Dub Nation will always have that wonderful day in July to remember, despite the move not coming to championship fruition the following June.
Bada bing, bada boom!