Defending champs on the ropes? And a Clippers series that doesn't seem like it will be close
Harden, Rockets advance after shockingly tough series against rebuilding Thunder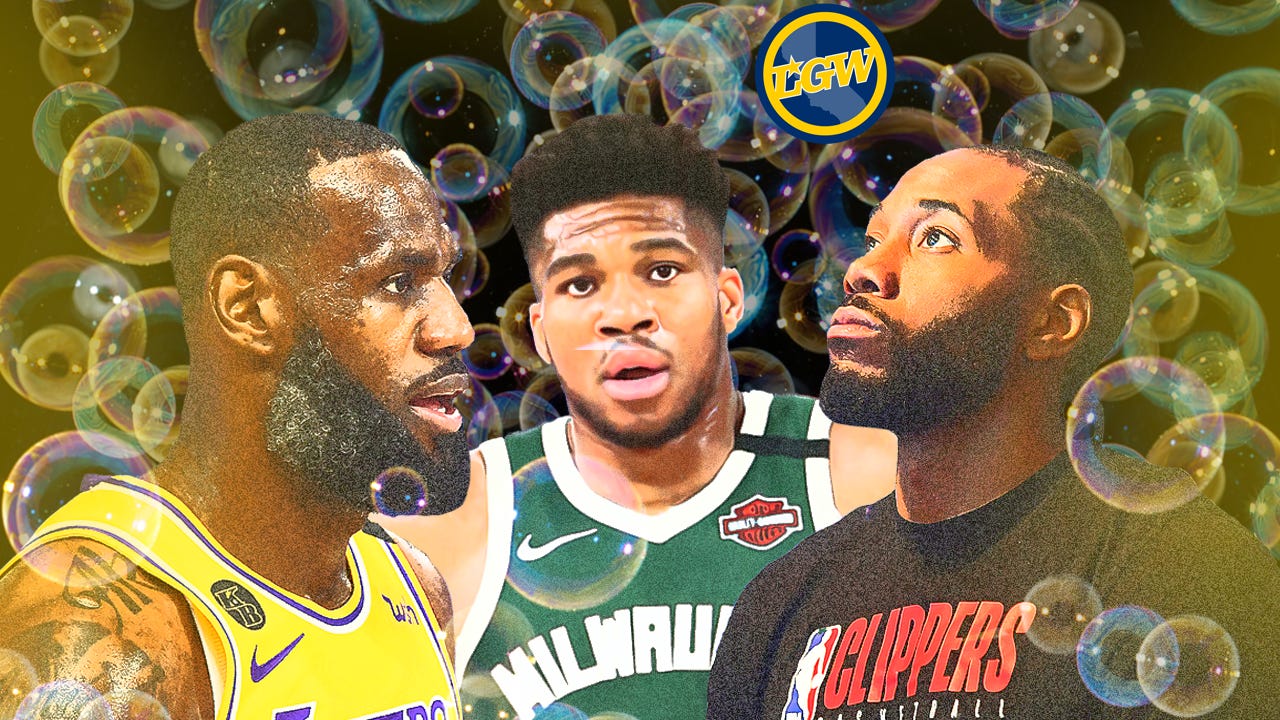 We saw three MVP's last night struggle for answers in crunch time. How many NBA players can consistently generate crunchtime baskets in isolation in today's game? 
Remember the 2020 All-Star game, when in a Kobe Bryant inspired, no clock final quarter, barely anyone could score without flailing at the rim and praying the refs bailed them out?
I wondered if it was perhaps because of the elite defense being played, but after watching Giannis Antetokounmpo, James Harden, and Russell Westbrook show zero offensive clutch mastery, I'm concerned about a larger trend in the NBA.
If these guys can't hurl a three, get a dunk/layup, or get a foul, they struggle to score! Unthinkable for an NBA MVP of old (unless we are thinking of certain traditional centers I suppose).
The #1 seed Bucks are down 0-2 to the #5 seed Heat for a few reasons, but one of the glaring ones is reigning MVP Antetokounmpo is in a maximum security Miami prison.
Sure, he's averaging 23 points, 12 rebounds, and 6 assists. He'll even get some thrilling dunks occasionally. Like spamming an overpowered attack in video games, Giannis will always have the Euro step as his move - the question moving forward will be "is it enough?"
The Heat are neutralizing him from being the terrifying weapon he was during the regular season. When Miami walls up and keeps him from beelining the rim, he doesn't seem to have a fallback option.
The Greek Freak struggles mightily with his shooting, so when he passes the ball and stands on the wing, he basically disappears. 
If he does barrel his way to the rim and gets whacked, he's a liability at the charity stripe. His free throw shooting has been tragic this series (13-of-25) including missing two crunchtime ones last night.
Then there's those times when Miami is perfectly position to thwart his drives to the rim...and he decides turboing into them anyway as the perplexed referees shake their heads and whistle him for offensive fouls.
This is a guy many argue is the best player in the league. Really? He's certainly a heckuva talent, but in the playoffs he seems more like a freakishly athletic center being misclassified as a wing. Without a reliable three-point shot or mid-range game he's predictable and the Heat have the personnel to keep him from dominating.
Now let's get to Rockets and Thunder Game 7.
James Harden's legacy survives the night intact - Rockets advance despite cold shooting from their star
The NBA playoffs have been lopsided, with a bunch of sweeps in the East, and some untimely injuries derailing what could have been interesting series between the Clippers and Mavericks, or Lakers and Blazers.
But there have been some incredibly riveting moments. Last night's culmination of the Rockets Thunder series was one of the more tense closing sequences in recent memory.
The reason that there was a Game 7 was because Westbrook has to either get to the rim or there's nothing for him.
A running theme for me in this series was the different directions that these franchises are headed in. Both are in the playoffs, but watching Lu Dort (undrafted) legitimately battle James Harden in this game was a fascinating dichotomy - where these two opposite ends of the spectrum can seem so well matched in a high pressure playoff environment.
Watching Harden huff in victory after Dort made a costly mistake can therefor be seen as a hard won victory; or a celebration of a heralded star that came within a razor's edge of having his legacy spooned into the feeding frenzy of fan/media discussion by some guy that didn't even get drafted.
Today's action: Defending champs on the ropes? And a Clippers series that doesn't seem like it will be close
The Toronto Raptors find themselves down 0-2 to a Celtics team that is clicking at just the right time. Jason Tatum and Marcus Smart have been the best players on the court so far, and today's game could be a non-elimination must win game for the champs.
In the afternoon game, we get to see the first Conference Semifinals series kick off as the Los Angeles Clippers happily welcome the Denver Nuggets just a couple of days off their big Game 7 win over the Utah Jazz.
If Toronto can't win today's game, both of these series could be snooze fests, but watch for the Nuggets tandem of Murray and Jokic attacking the Clippers interior. The Clippers have been clinging to Montrezl Harrell  in their closing lineups, despite him struggling against Centers with size (like Jokic).
Here's the overall standings (the Lakers Rockets series starts tomorrow evening).