Discover more from Dub Nation HQ
High Quality coverage of the Golden State Warriors with the best commenting community in the world.
Over 3,000 subscribers
All Star weekend preview guide
What to know about the changes, who's playing, and when to watch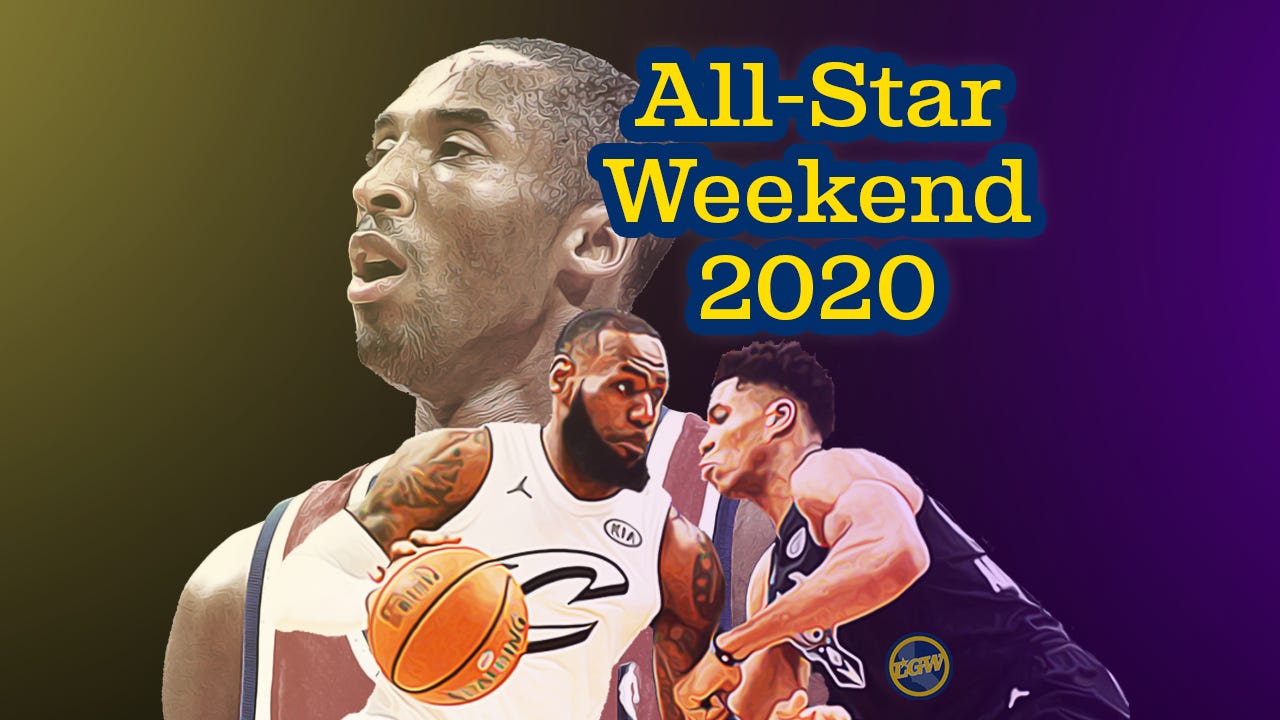 As they seem to do every year or two, the NBA has made just enough tweaks to their All Star formula to keep everyone guessing. So what's changed, and who is doing what?
But before we dive into that, a moment, if you will, for the Golden State Warriors' sole representative, Eric Paschall, who showed out last night!
I've got some punk rock shows to go to this evening, so will have to content myself with Twitter highlights, but for those of you watching along, here is the schedule of events over the next two days:
---
Saturday, Feb. 16
All times converted to West coast / best coast time

NBA All-Star Practice (presented by NBA TV)
  9:05 AM – Team Giannis Practice

  10:05 AM – Team LeBron Practice

5 PM | State Farm All-Star Saturday Night | TNT
Sunday, Feb. 17

5 PM | 68th NBA All-Star Game | TNT coverage begins at 4 PM(also available on TBS)
---
Sunday's All Star Game - a requiem for Kobe
For a game slated to take place exactly three weeks after the tragic death of one of the NBA's most recognized icons, tomorrow's All Star game is rife with nods to the ex-Laker. The final quarter of the game will be played to 24 points, in honor of Kobe's jersey number - will the teams buckle down and play defense for the five minutes it takes to rack up just 24 points in an All Star game?
That's the hope, I think.
Beyond that, the NBA has made the drastic step of admitting that the game score doesn't really matter. Now, each quarter is a standalone feature, where the teams compete for charity money.
Here are the major changes, in a nutshell:
Every Quarter Counts for Charity – The All-Star teams will compete to win each quarter for Chicago-based community organizations.


New Game Ending – The fourth quarter will be untimed and the teams will play to a Final Target Score, meaning that the game will end with a made basket or a made free throw instead of with the clock running out.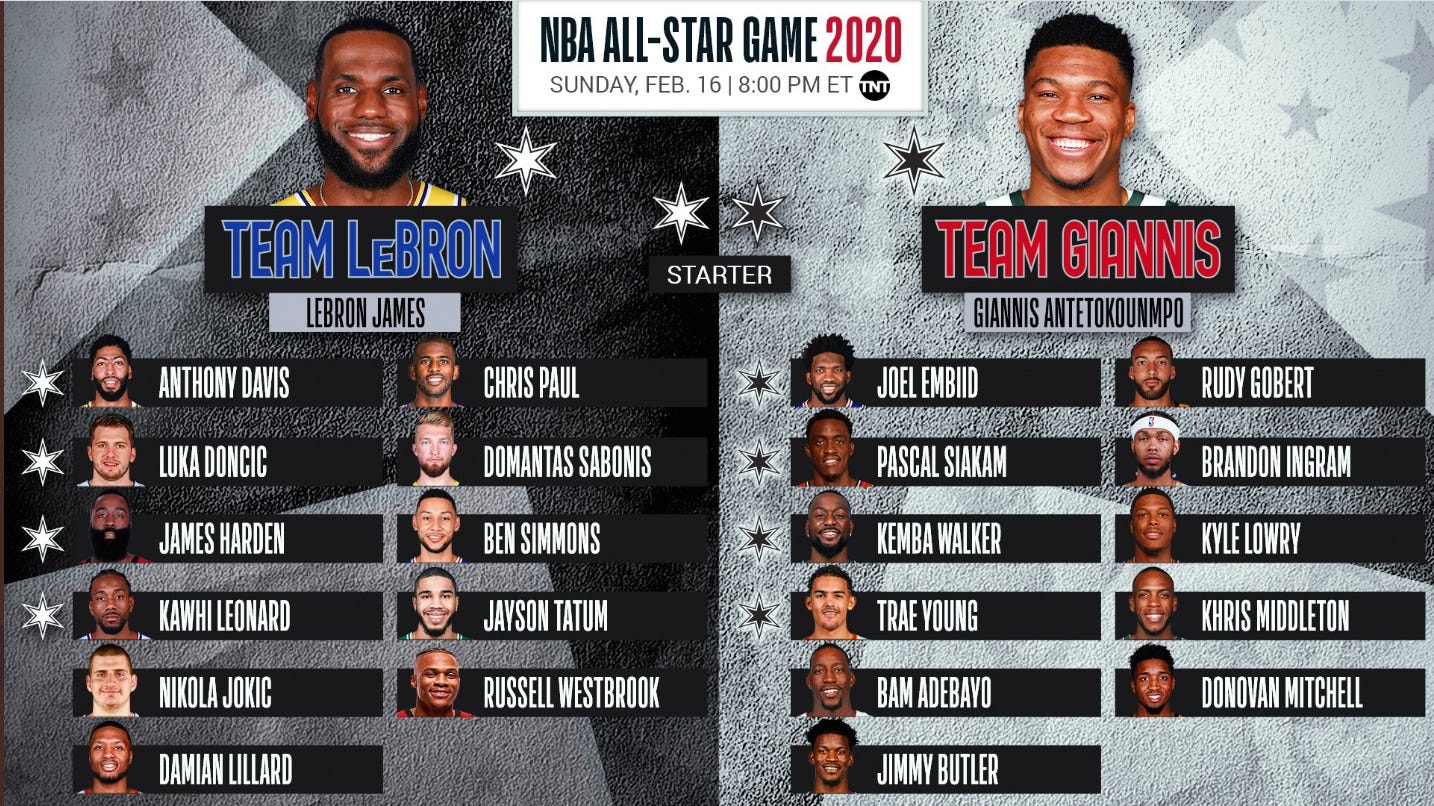 Saturday - skills challenge, three point shootout, and dunk contest
Taco Bell Skills Challenge (first event)
The silliest of all challenges, in my opinion, is the opening stanza for Saturday's All Star festivities. Ever wondered if an NBA player can dribble pass and shoot? Well this event is for you. Come watch to see who is the dribbliest, shootenest, best-passing hombre around.
Much like going out to see live music, the promoters of this event are not releasing set times, preferring to just give the "doors at" opening time, and then showing the sequence of events.
All of the below snapshots of participants have been copied from wikipedia.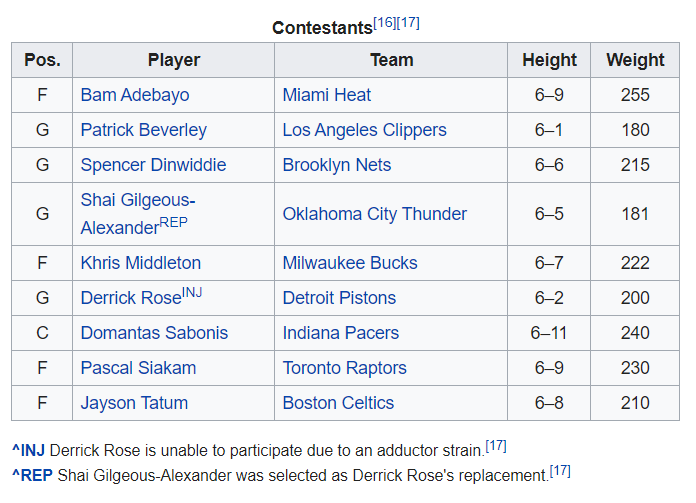 Three-Point Contest (second event)
No Splash Brother for the first time in a long time, but the three-point contest has always been an oddly fascinating and surprisingly suspenseful event.
As with the All Star game itself, the NBA has made some fairly major structural tweaks to this game, adding two extra green balls that are positioned six feet behind the 3-point line.
This will raise the maximum score to 40 points in a round, and because of the extra balls, contestants will have an extra 10 seconds to take their shots - for a total of up to 70 seconds per round.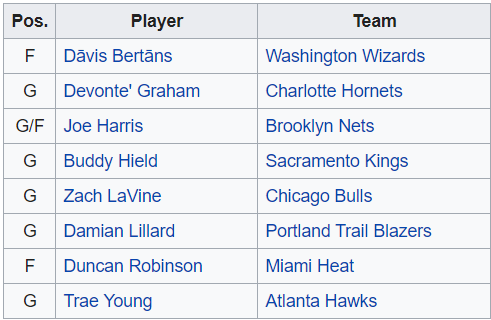 Also, in case you wanted to see who has shot what percentage from deep this year, here's a graphic from Yahoo that shows each players three-point percentage, as well as the betting odds for them to win. Interestingly, Duncan Robinson, the player with the best shooting percentage is not favored to win: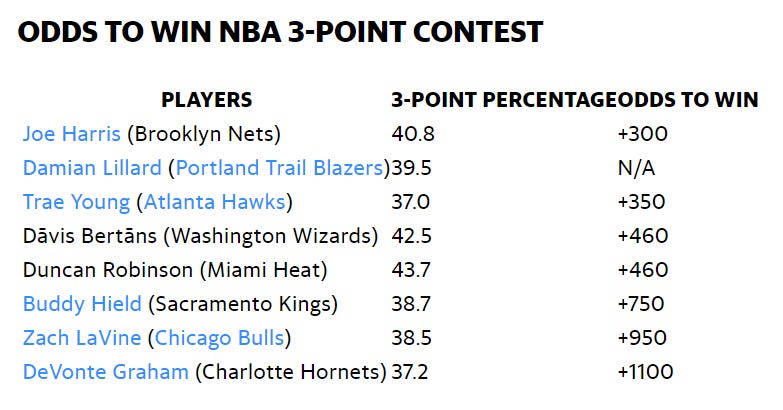 AT&T Slam Dunk (third event)
Just four participants this year, but hopefully the reintroduction of Dwight Howard to the mix can liven up what has been the most unpredictable of the All Star events.